The pandemic made it increasingly difficult for travelers to venture out and sooth their desire to explore the world that is deeply encoded in their soul. When I originally set out to learn and explore wines from all 50 States, I had hoped to accomplish this by visiting many of the states directly. I eventually realized that this was going to be a bigger challenge than I thought due to my own personal life and then I was ultimately shutdown by the start of the pandemic. For someone who craves travel and finds it to be enlightening and soul cleansing, every fiber of my being has been craving to get back out there.
A trip back to Southern Illinois to visit family gave me the perfect opportunity to take an additional road trip to a neighboring state and try some of its wines. My wife had mentioned more times than I care to admit about digging for diamonds in Arkansas, specifically the world's only public park at Crater of Diamonds State Park located in Murfreesboro, so I began researching its wine industry and what options I had along our route from Southern Illinois to Murfreesboro to hunt for diamonds.
Arkansas's wine production was first attempted by French settlers and in 1870 the first commercial wines were produced in Altus, a town in the northwestern section of the state near the Ozark Mountains. This area proved to have the perfect microclimate to produce quality wines. Jacob Post was one of these early Altus winemakers who's descendants are still to this day producing wines at Post Winery, one of the oldest wineries in the state. The region around Altus has continued to be a hotbed for Arkansas winemaking, so it was granted its own AVA (Altus AVA) in 1984 and a top source for much of the state's wine research. Not bad for a town with less than a thousand people.
Arkansas at one time produced more wine than any other state, but sadly like so many others, Prohibition all but destroyed the industry until only recently. In fact, many of Arkansas's counties are still dry today.
Sadly Altus was too out of the way for our trip down to Murfreesboro, so I had to investigate other options. I discovered that Arkansas has several "wine trails", which more or less define each of its regions. The Ozark and Altus trails were both too far north for me, but the Capital and Bath House trails were both within range. It was decided that we'd fly back to Los Angeles from Little Rock, so visiting a winery within the Capital Trail was a possibility before we headed home. The Bath House Trail intrigued me more since though I had heard about Hot Springs, Arkansas quite a bit as a child, I had never been there myself.
Visiting some hot springs sounded like a great idea as it had been almost 10 years since my trip to Mile, Yunnan, China. If you've read my post from that trip, you'd know that Mile is another city also famous for its natural hot springs that is now producing a huge amount of wine. I wonder if the natural springs aids in the quality of its wines?
I convinced my wife that though we'd spend plenty of time in Murfreesboro digging for diamonds, it would be better to stay in Hot Springs so I could try some wines and we'd get to experience the natural hot springs.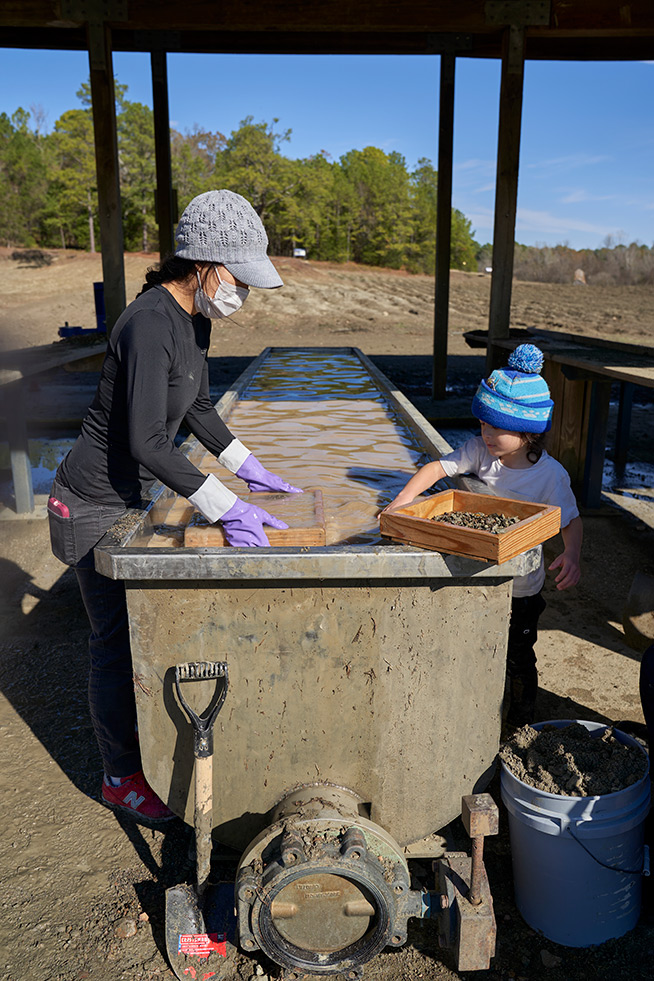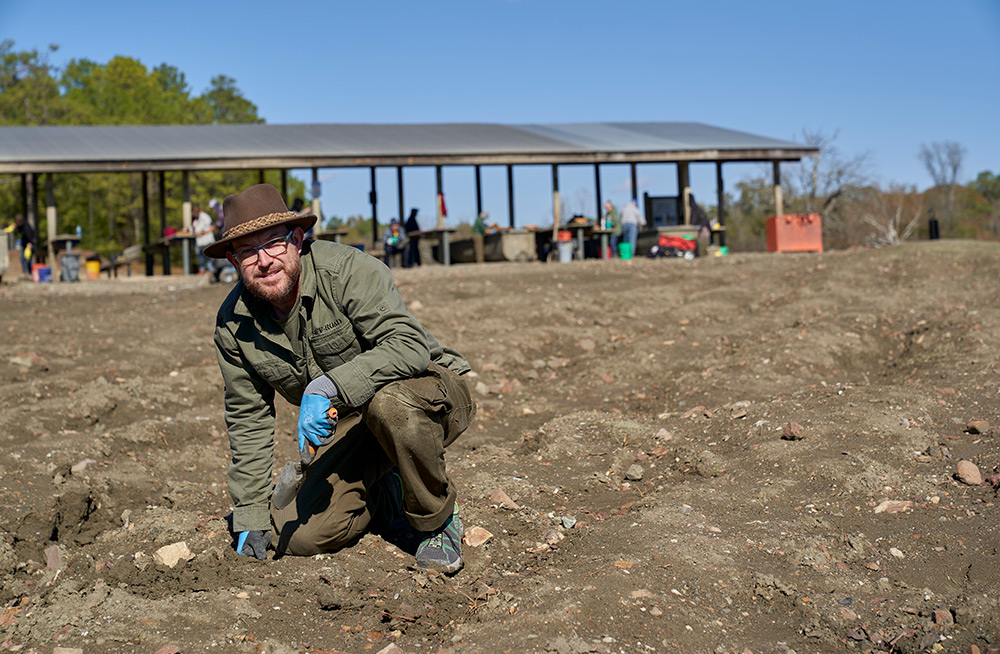 After spending some quality time with family in Southern Illinois, we hit the road to Arkansas and arrived late at night in Hot Springs. Early the next morning we headed out to try to find some diamonds. Everyone at Crater of Diamonds State Park was extremely nice with lots of other people spending the entire day surface hunting or digging deep and then sifting the dirt. There was even a Youtuber filming a comedy skit about hunting for diamonds. Sadly we didn't find any diamonds, but we did come back with cool rocks!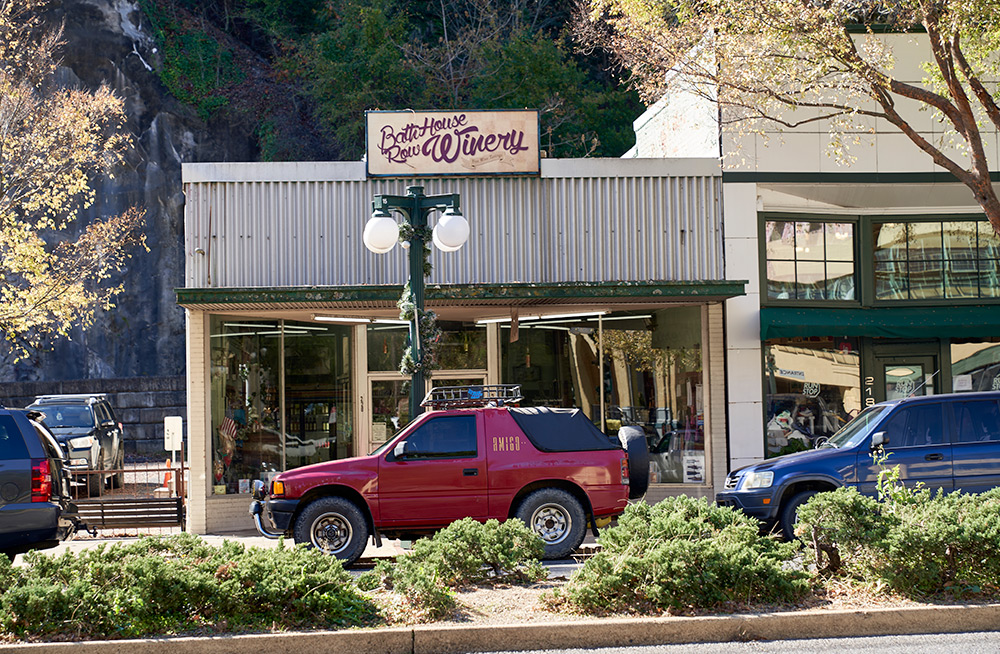 I personally was more excited for the next day, when I could finally explore Hot Springs and discover wines to bring home. November can be quite cold, so it wasn't the most pleasant time of year to be walking around town. I chose the Bathhouse Row Winery which is located downtown and is the sister location of The Winery located a bit further down the road. Both have their own labels but are part of The Winery of Hot Springs. I even saw billboards for another location off a lake, but found no other details about its whereabouts.
A major requirement to these 50 Wines From 50 States tastings is that the wines must come from grapes grown within that particular state. I've often found that finding these details can sometimes be challenging for states that aren't as well known for their wines. Labels often don't follow the standard method either of giving details about where the grapes come from and where the wine was produced. Taking the labels at face value can be misleading as simply saying a wine is a "State XYZ wine" doesn't necessarily mean the grapes were grown there. Bathhouse's website didn't give too many details about this, so I planned to play it safe and just go for their muscadine wines since chances are those were at least grown in Arkansas as it's a common southern grape.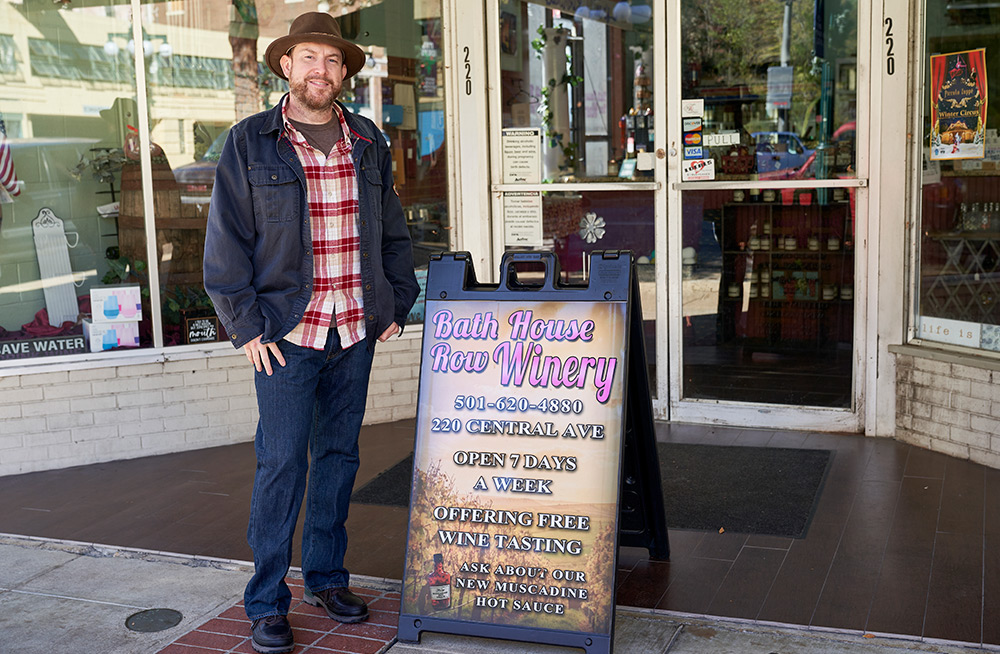 We went into Bathhouse Row Winery pretty early in the morning, so it wasn't busy yet. The person working was very polite and offered to let me taste a bunch of their wines, but I asked which of their wines came from grapes grown in Arkansas and they said "all of them". I found that fairly hard to believe since a number of the grapes used seemed to be outside of Arkansas's expected growing ability. They did say that their wines were produced and bottled by Post Winery up in Altus though. Admittedly the person did say that they weren't the biggest wine drinker, so it's possible they had misheard some details. While I knew of Post Winery at the time of my tasting, I did not know if they truly could be growing all of these grapes. Since who knows when I'd be back in Arkansas, I stuck to my original plan and chose to only buy wines using Muscadine grapes.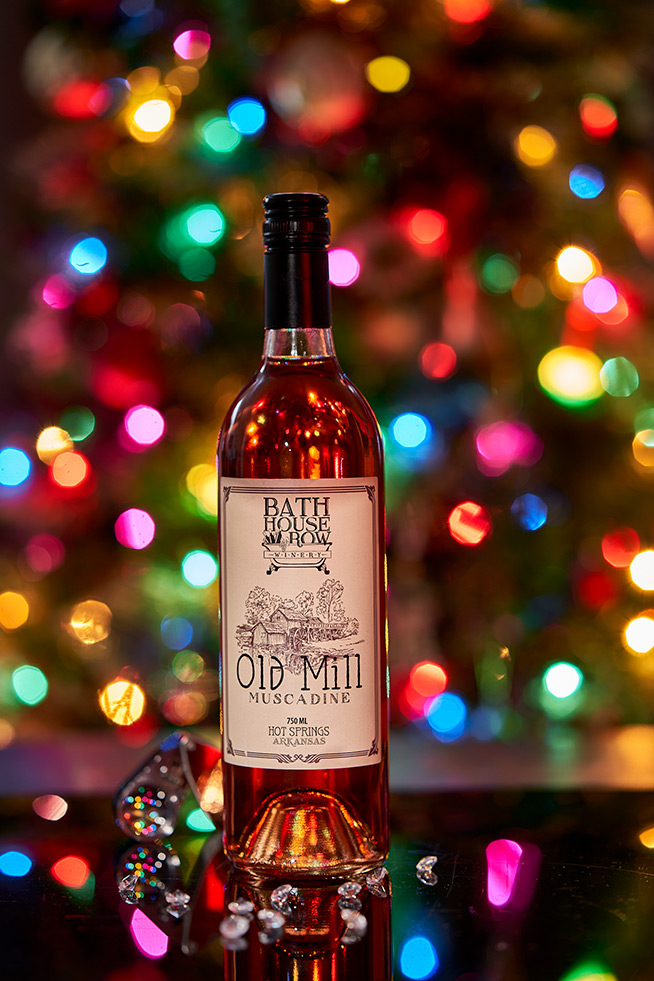 My first wine from them was their Old Mill Muscadine, a non vintage rosé which was said to be a popular choice. I didn't get too much of the foxy aroma muscadines are often nitpicked for having but it did have a softer fruitiness on the nose. It was medium sweet with a bit of the sugar still on the tongue during the finish. I personally am not bothered by the foxiness, but my guess is the sweetness is masking most of it here. Their Old Mill Muscadine was a bit too sweet for me, but I'm notorious for preferring dryer wines.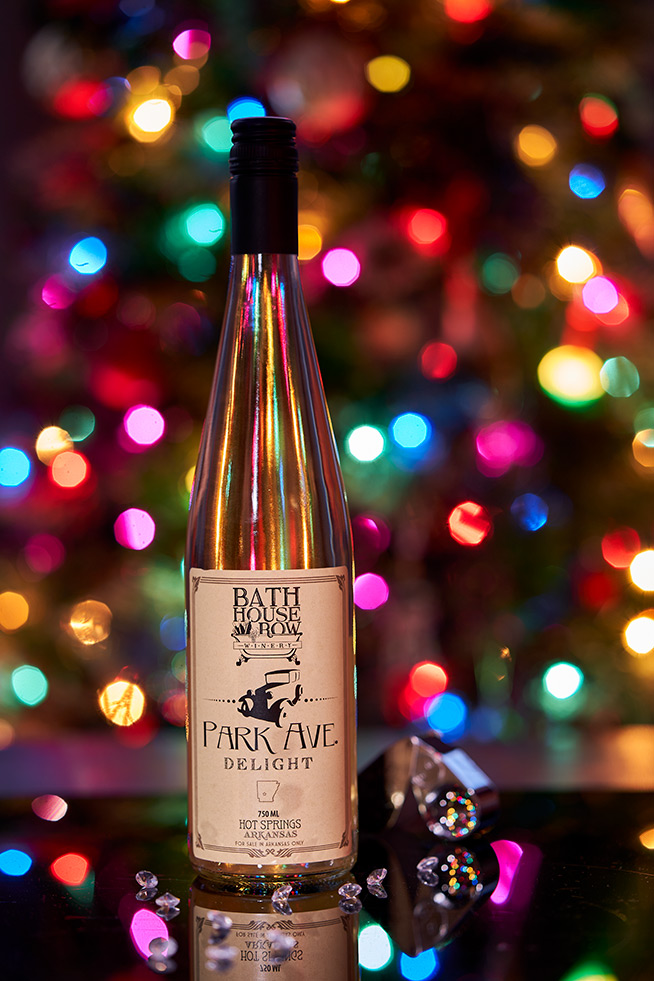 I was told that my second wine, Park Ave Delight, was by far their most popular right now, and usually sells out pretty fast. Interestlingy, I was told that some wines are sold at one location or the other. They are only a few miles apart, but I guess each label matches up to a particular location. Park Ave Delight is a sweet sparkling muscadine wine, and I think the bubbles work quite well with the level of sweetness here. There were notes of pear and lychee mixed with a great bubbly finish. It reminded me a bit of a sweet pear cider.
All in all, these were some good wines. Especially if you like sweeter wines. When I returned home, I researched Post Winery a bit more. They do talk about growing muscadines and many other disease resistant hybrids. They do sell more well known wines, but most of them are labeled as American wines, which leads me to believe that they probably do get them from elsewhere. I'm glad I trusted my gut and stuck to their muscadines.
Now, up until this particular wine review, I have only ever listed two wines from one winery per state and that was my original intention here as well. But as I mentioned earlier, we were flying out of Little Rock, so I always kept a backup winery near there in case Hot Springs didn't work out. I really liked what I had read about my backup winery, and since I left Hot Springs unsure with what I purchased I decided to stop off before heading to the airport.
Rusty Tractor Vineyards is located on the southwestern edge of Little Rock, and was just off the interstate as we headed into the city. It's nestled between houses that almost felt like a suburb. Kind of cool for the neighbors in the area to have it so close by. When I first visited their website, I did find it interesting that while they were a vineyard, they actually focused more of their website on wedding and event services and I couldn't find any hours of operation for wine tasting. They did at least have an entirely separate site devoted to listing out their extensive wines grown onsite. This attention to detail was what caught my eye and made me decide to check them out.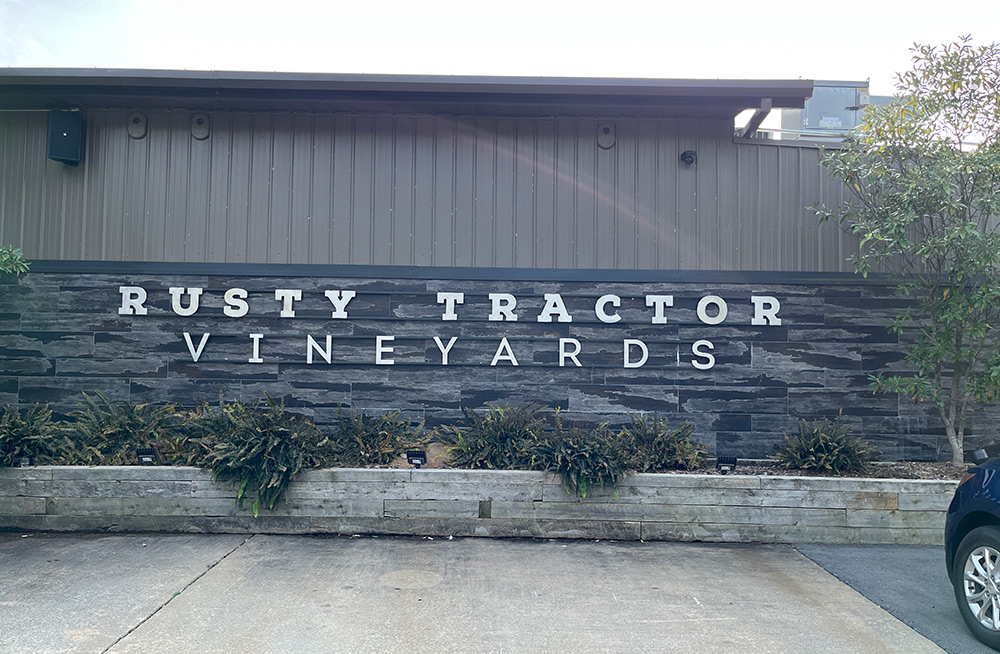 We arrived around lunch time, but noticed only a couple of cars. I decided to go in alone and see what they offered. I was greeted by one of the owners, who told me that they aren't really open to the public for tasting but I was welcome to buy some bottles to take home. As I waited, I was also able to speak to another owner, the head winemaker, who discussed with me about their wines and winemaking in general. Sounds like the tasting industry hasn't really taken off much yet for them so they primarily focus on events and selling their wines at them.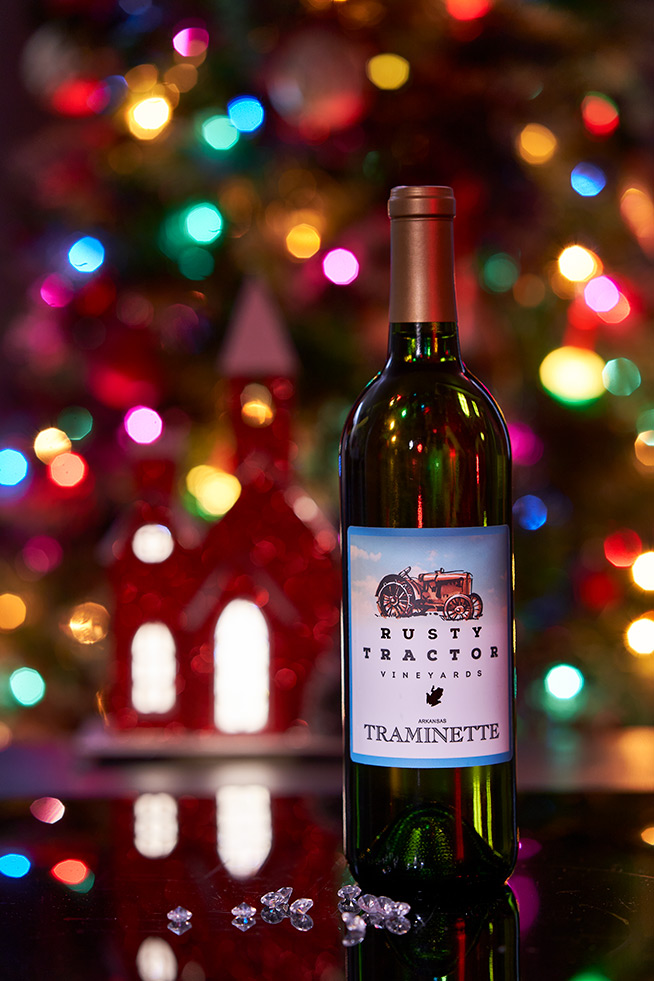 My first wine was their non vintage Traminette. Traminette, which I've tried it before from Indiana, is a French hybrid cross which includes parent Gewürztraminer. This version also did not disappoint. It has a very fragrant mix of floral aromas on the nose, and a taste quite similar to a light dry Gewürzt. Overall mild acids and a savory aftertaste.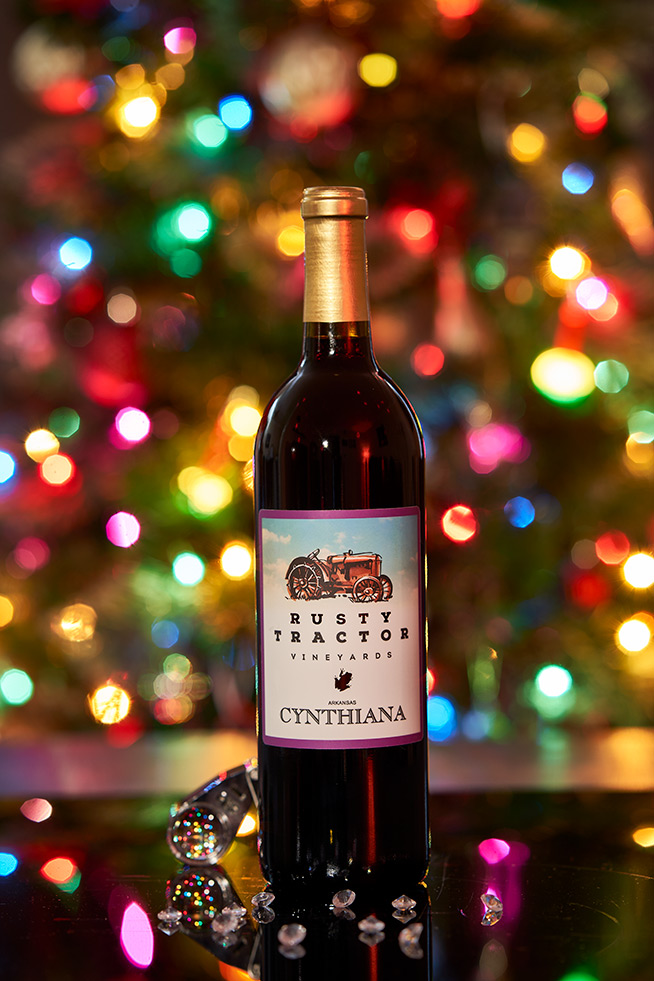 Their non vintage Cynthiana was what I chose for my second wine. I couldn't do an entire wine tasting of 4 bottles without at least 1 hearty red wine, now could I? Depending on where you look, Cynthiana is either just another name for Norton or it is a mutated version of Norton. Either way, they do seem quite similar and this particular version fit the standards quite well, medium to full bodied, strong acids, with aromas of darker berries and black cherries. It could hold up any day against wines made with more well known varietals.
I'm really glad I decided to stop off and try Rusty Tractor Vineyards. The attention to detail on their wine labels was stellar as it clearly defined the sweetness levels and grape origin. I liked both of their wines the most and overall felt that the Traminette proved itself to be the best of the lot. Park Ave Delight did surprise me a bit though, as I wasn't expecting to enjoy it as much as I did.
It felt really good to get out and explore new wine regions again, rather than just buying and shipping wines to my home. Though I will say, this trip did have a major downside and took a lot out of me. One of my group members got COVID-19 before we headed home. The rest of us all at different households ended up positive within the week after we were home. I then spent the next couple of weeks dealing with chills, coughing, a never ending runny nose, and unable to smell or taste too well. This stopped me from reviewing sooner. Seems most of the US thinks the pandemic is over, but it clearly isn't. Not a big fan of going through that again. Stay safe everyone!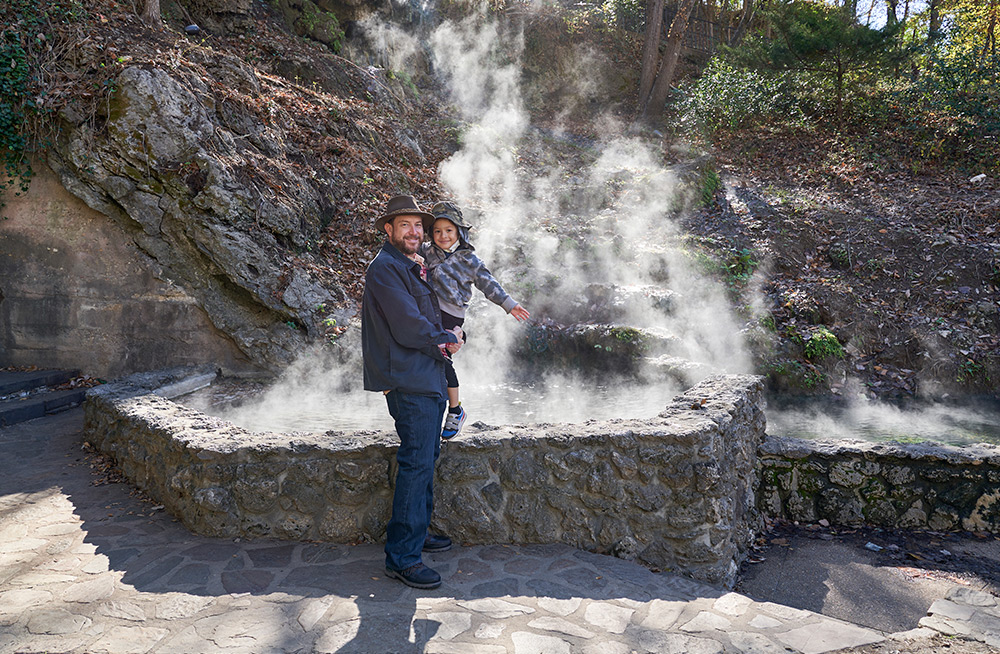 You can see a list of states I've reviewed on my main 50 Wines From 50 States page.
Send me Sats!