When I first started looking for wines from Indiana, I fell into a familiar trap that I've often caught myself thinking. I grew up in southern Illinois, Indiana's neighboring state to the west, and tend to assume that Indiana and Illinois are very much alike. So in the case of wine tasting, I won't really find much difference in the wines and wineries from Indiana than I did from those of Illinois. Boy was this tasting an eye opening experience!
Winemaking first began in the Indiana territory sometime in the late 1700s to early 1800s. Most Indiana historical records state that a Swiss man named John James Dufour, a Swiss immigrant, moved to the US to discover a place that himself and other families could start growing grapes and making wine. This helped found the town of Vevay located today in Switzerland County and lays claim to being the first commercial wine making operation in the United States. Winemaking continued flourishing in this region for several more decades and was the 10th largest wine producing state in the country, but interest eventually moved on to other wine producing states and Prohibition destroyed what was left of Indiana's wine industry.
As I mentioned before, I grew up in Illinois and Indiana was often looked at as a near carbon copy to me. From my hometown in southern Illinois, I could drive east on country highways to the Indiana border within an hours time. Much of the terrain remained the same between these two areas. When I located Huber's Orchard & Winery located in Starlight and part of the Indiana Uplands AVA I was surprised to see that they were growing 18 different grape varietals on their roughly 600 acres and are considered Indiana's largest wine-grape producer. Back in southern Illinois, most of those wineries tend to only grow at most 3-4 varietals themselves and then import in others from out of state. So seeing Huber's growing so many all at once was like stumbling across a gold mine.
It all began in 1843 when Simon Huber immigrated from Baden-Baden, Germany and utilized his own winemaking experience to begin his farm. Several generations later in 1932, Carl Huber first began the farming operation that would go on to become Huber's Orchard & Winery. Diversification has helped them survive the ups and downs by offering various fruits, a distillery, and even Christmas trees.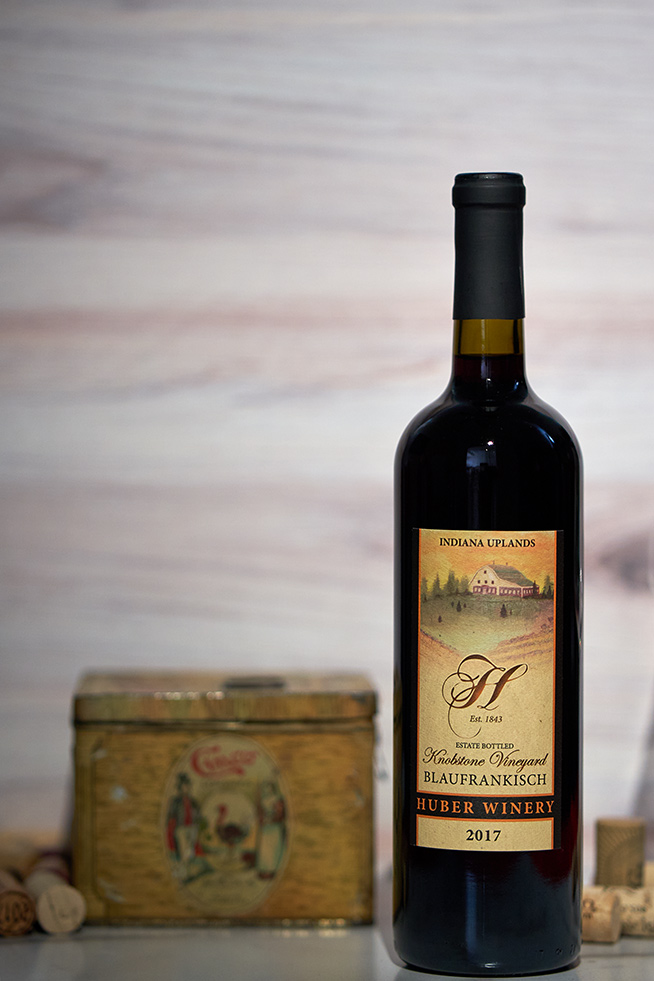 With such a large range of varietals to try, choosing two was a bit difficult. For my first wine, I decided to try their 2017 Blaufränkisch, a red grape which has its origins in the Austria-Germany-Hungary region. So far through my tastings of other US grown wines, I haven't seen it offered very much. However since the Huber family has Germany ancestry, I understand their interest in growing this particular varietal. Its color was a darker red-purple and had a foxy/peppery aroma I actually found similar to many US native/hybrid varietals. Its tannins were very light yet it had medium acids with flavors of pepper and herbals and a touch of some darker fruits.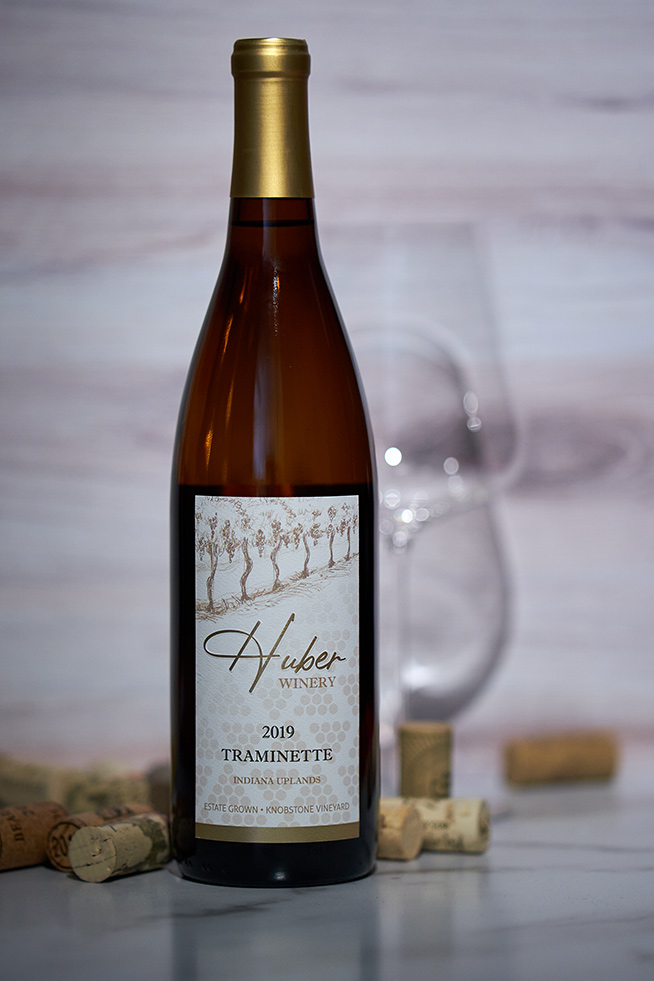 My second wine was their Traminette, considered by the Indiana Wine Grape Council as the signature wine for the state. Traminette, a white wine, is a French hybrid cross that contains Gewürztraminer and was first created in 1965 at the University of Illinois, Champaign/Urbana. I often mention that I typically prefer reds to whites, but the biggest exception has always been Gewürztraminer. So much so, that I even served it at my own wedding! I tend to prefer German style Gewürztraminers that are usually sweet compared to French which are usually more dry. Once I knew Traminette's pedigree, I realized right away that I had found my second wine. Huber's Traminette was exactly the way I like my Gewürztraminers. This Traminette was light in color and contained lots of florals and peaches with the perfect amount of sweetness.
It was really no contest which wine I preferred from this tasting. Their Traminette reminded me so much of my favorite Gewürztraminers and was just so easy to drink. The Blaufränkisch was an okay wine, but there really was no comparison for me. I know this is a biased opinion from personal preference, but that is the purpose of this section of my blog anyway… to find my own preferences among locally made wines from around the United States.
You can see a list of states I've reviewed on my main 50 Wines From 50 States page.
Send me Sats!