Please Note: This was an updated post from a previous blog I used to have. My trip to Yunnan was in 2016 not 2018 as the post date lists.
Large international companies like Moët Hennessy have been focusing on the edge of the Himalayas, an area of northwestern Yunnan, China dubbed "Shangri-La", due to its cool climate. When it comes to the topic of Yunnan red wine, the media in general tends to only focus on this region. Its remote location makes it extremely difficult to produce wines, but this hasn't stopped Moët Hennessy from releasing Ao Yun and their premium Cabernet Sauvignons. While this northern area intrigued me, I decided to focus my attention on the southern section of Yunnan where the local Chinese have been making wines for a very long time.
There is a sad trend in the wine world that likes to ignore the non-essential international varietals. Many vineyards around the world have even decided to rip out their vines and plant only those well known types. The average consumer (including Chinese) only knows a few styles of wine. The growing middle class of Chinese are being groomed to want the common French blends and the international varieties that go with them.
Southern Yunnan doesn't receive as much attention from consumers because it does not focus on the well known varietals. It is simply much warmer and more humid in Southern Yunnan than what most international varieties prefer. Yunnan is known for its Summer-like temperatures nearly year round, so this has made it the perfect province for agriculture. The locals have been growing edible grapes for generations, but it was apparently when some French missionaries brought vines of their own in the early 1900s that wine became an option too. The Chinese now call these varietals, French Wild and Rose Honey (玫瑰蜜). Apparently these varieties are barely grown anywhere else now due to the phylloxera epidemic of the late 1800s.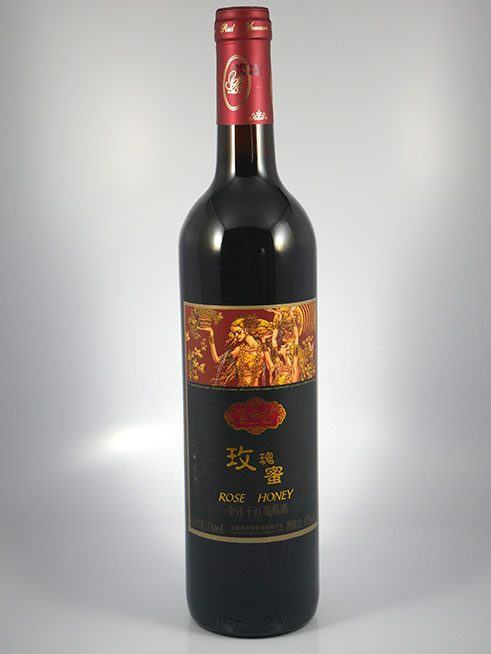 Local wine and wine tasting aren't really a big thing yet in China, so there isn't too much information out there (especially in English) about where exactly these wineries are located. When it comes to China, GPS and Google Maps aren't always fully accurate either. You have to do a bit of gut-instinct guessing with as much solid research behind it as you can.
Mile, Yunnan
My flight landed in Kunming (昆明), Yunnan, and then I took a bus about two hours southeast to a little aspiring city called Mile (弥勒市). From everything that I had read, Mile was just a tiny town 15 years ago. Back then, it was only somewhat regionally known for its hot springs, but not much else. Most of the economy had come from the cigarette factory nearby. But just like elsewhere in China, the area and its economy had boomed over the past 15 years. Many of the old buildings and hot springs were demolished, and a new fledgling city appeared in their place.
You can start to see vineyards scattered here and there along the sides of the road as you get closer to Mile. And then only a few miles from downtown Mi'le do you start to see rolling hill after rolling hill filled with vineyards. Some vineyards are growing edible grapes, but a large portion of them are for wine.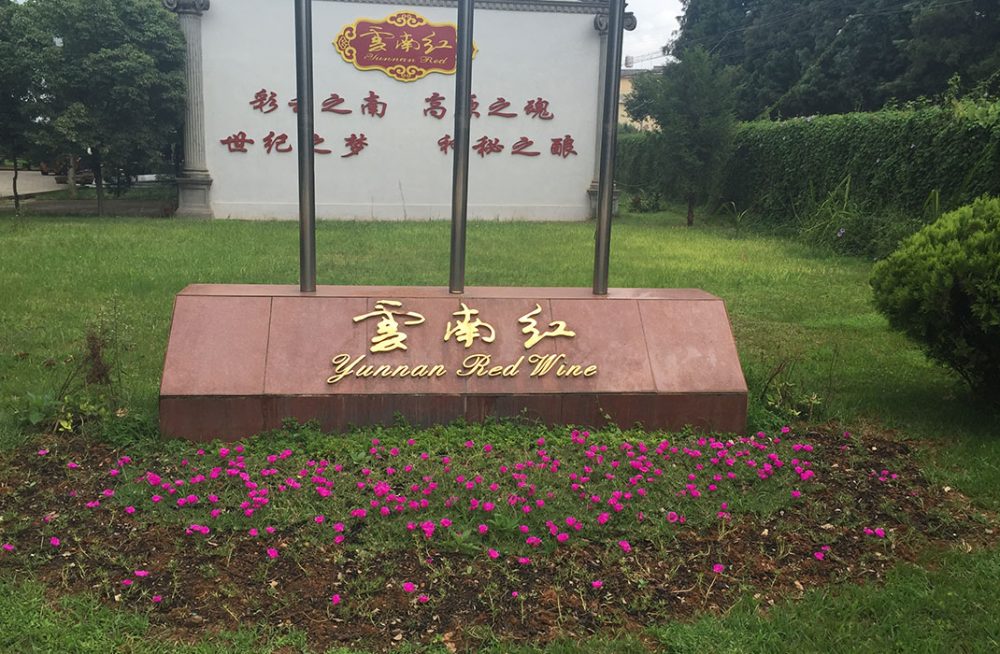 As I made my journey by taxi to my intended winery, I saw the most interesting yet amusing site all at the same time. At the edge of road in front of the vineyards were people with signs in Chinese and clear jugs of grape juice just like children who sell lemonade in front of their houses. They were making wine on the spot and selling it to people who passed by. Talk about the freshest and most raw form of wine you could ever have. Obviously this wouldn't compare to something more formal, but it was awesome to see innovation from the locals who were probably just workers on the vineyards trying to make a few extra bucks.
After about a 30 minute drive, my taxi driver pulled over next to some vineyards and a large gate. I had finally reached my destination, the Yunnan Red Wine company (云南红酒庄). They had been making wine for at least 20 years, and were most certainly the largest winery in the area. They offer winery tours, have a fake Christian Church for weddings, an awesome cellar, and a nice tasting room that overlooks their vineyards.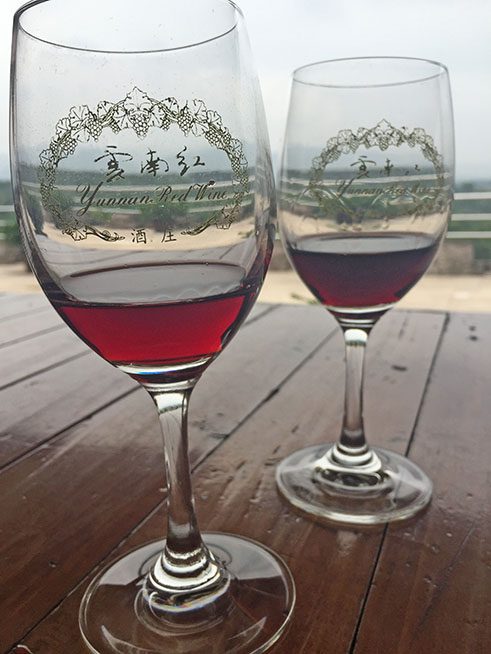 At the end of my tour, I was able to taste some wines and enjoy the view. It began raining hard while I was there, and several of the other people all left. The sound of the rain was soothing and most of the people had gone. I could sit, look out over the vineyards, and relax. This was by far the hardest trip I had ever taken on my own. I'm alone and not quite fluent in Mandarin yet. Getting to this winery was a little exhausting, and the exact location of it was hard to find from abroad. I decided that I would wait until the rains stopped before I attempted to make my way home. The winery was very remote, and I hadn't seen any taxis at the front when I had arrived earlier. Getting home will be tricky.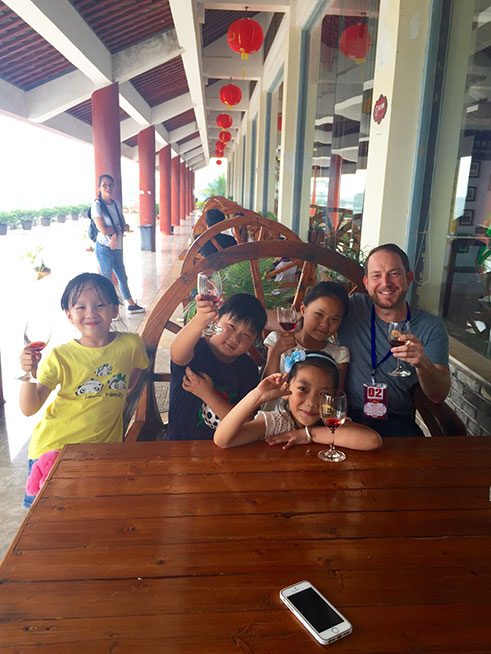 In a somewhat amusing moment for me, a group of giggling Chinese children came running over to me. "Hello!", they all said one by one. They were all carrying their own glasses of wine and spilling it all over as they ran around. As a child, I wasn't allowed that much alcohol. Maybe the occasional sip, but that's all. The parents eventually bunched their children together with me and started taking pictures. It's a pretty typical situation for me in China, just like an animal in a zoo. Sit still and just play along. The kids all finished their wines and then they were off in a flash chasing down their parents. Finally, I was alone with peace and quiet again. I could move on to writing down my tasting notes for my wines.
Both of my sample wines were red. I found the Rose Honey to be similar to hybrids like Norton or Chambourcin. Mile has a Summer climate and humidity not too different to me than parts of Missouri or Illinois where these two are commonly grown. So I'm not too surprised that these wines taste similar to Rose Honey. There's a faint green taste to Rose Honey, and I found it to have medium tannins and mild acids. Considering the hotter region these are grown in, it was what they should be.
The second was called French Wild. I'm not sure exactly what that means. I've never heard of it before, and still have been unable to find anything else about it. This province does like to use it often though. Months after this trip, I opened this bottle. It had a bit more of a burnt fruit taste with lighter tannins and lower acids.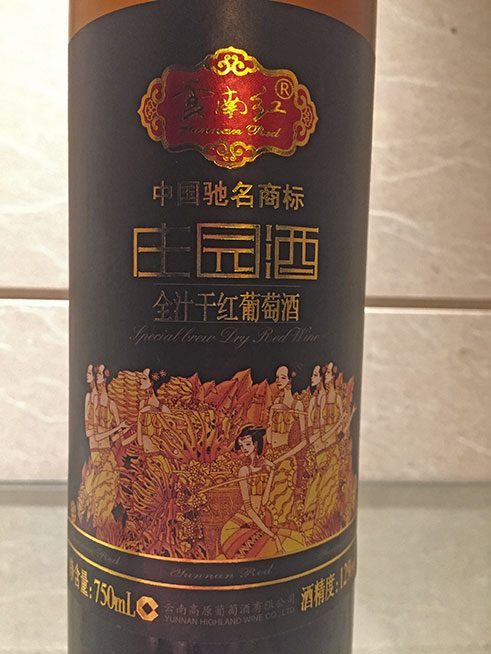 They had a very nice air conditioned store full of dozens of options. One thing I loved about Yunnan Red was their label designs. Each label was a very ornate historical themed sketching with sometimes sexy dressed ladies. I came away with 3 bottles from the Yunnan Red Wine company. Two bottles of Rose Honey. One a little nicer at about $30 USD, and another at a much lower price of about $12. I also purchased one bottle of French Wild for about $13 USD.
Yunnan Red Wine Company – Two bottles of Rose Honey, One bottle of French Wild
Cost: Equal to about $30 USD, $12 USD, $13 USD.
Their winery is in the thick of the vineyards and several miles outside of the city on a gravel road. As I said before, there was no taxi service to help me get back. I decided to hold off my ride back home a little longer and took a walk down to the fake Christian Church for curiosity. They even had a book for you to sign your name. Afterward, next to a pond, was a tiny little family run restaurant situated on a patio next to their home. Best to eat something before I plan my route home.
After my meal, I asked the owner of the restaurant if he could help me get a taxi back to town. He said that there were no taxis out this far from town, but he would take me to the nearest bus depot on the back of his scooter. Me and my duffel bag full with 3 bottles of wine hopped on the back of his scooter and off we went. This bus depot was a good 10 minutes away from the winery. He even waited around until the bus left to waive me off. For only about 50 cents USD, I traveled several miles back to my hotel with my wine. I won that day thanks to a very nice local man.
Mile has a very nice recreational area called the Huquan Ecological Park. There is a lake with a roughly 2 mile path around it for walking, jogging, and rentable tandem bicycles. One side has a small beach and a boardwalk with touristy shops and food. One of these boardwalk shops sold local wine from a brand I hadn't seen before, so I had to stop and learn more about them.
The person running the shop was part owner of the winery. He said that they were a new local startup winery sourcing from the same area I had visited on the previous days. I wasn't exactly surprised to see other startup wineries since I had seen such a large amount of vineyards.
The temperature of Mile can be somewhat hot and humid and none of these booths were air conditioned, so I knew their wines weren't exactly being kept in the best environment. Nevertheless, I couldn't pass up the opportunity to try another bottle of wine from a local winemaker, and I knew I would go straight back to my hotel and open it anyway.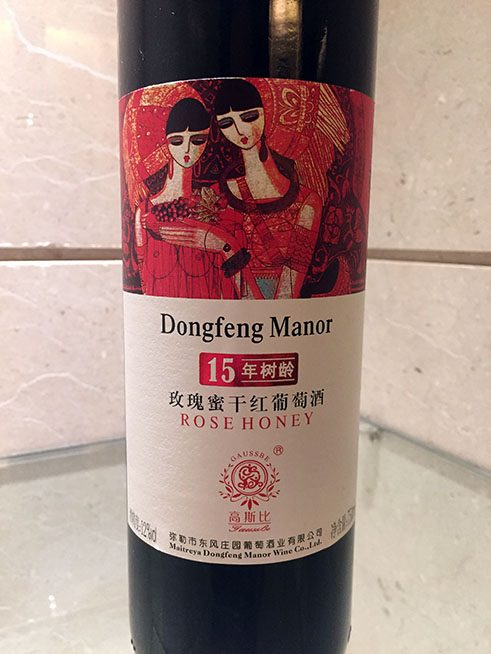 Dongfeng Manor – Rose Honey
Cost: Equal to about $5 USD.
The Rose Honey grape wine was from Dongfeng Manor, and tasted like what I now felt was the standard for Rose Honey wines. A slight hint of green, medium tannins, and lower acids. The wine smelt a bit of burnt fresh red fruits. It definitely seemed like a young wine. But it also tasted a little muted of flavors compared to the Yunnan Red Wine version. Possibly due to the heat it experienced every day. Dongfeng was the name of the one of the vineyards outside of Mile, so I'm assuming they took the name from this.
Mile's very new looking downtown also had several wine store fronts with various amounts of the local wines available. None of them had air conditioning. I believe this was a sign of the economic process still in transition. While the city was getting some nice freshly built skyscraper condos, the people were still in transition. I wish I could have purchased more wines, but I simply couldn't purchase anymore on this trip. There's always a next time.
Kunming, Yunnan
I returned to Kunming, and was a little glad to be back in a bigger city. Other than the few "Hello's" from those children, I hadn't spoken English in several days. To celebrate my journey a little, I decided to open the cheapest of the Yunnan Red bottles. It was by far better than Dongfeng Manor. It also seemed fuller bodied than the one I had sampled at their winery too. Nicer tannins and a bit of plums. I enjoyed this bottle tremendously.
Since I now had an open spot for another bottle of wine to take home with me, I decided to look in Kunming at the one place most Westerners wouldn't typically go to buy premium wines back home. Walmarts in China have massive wine sections where they sell both premium and budget wines from around the world as well as many of the local brands. Their stores in China always have helpful employees in every aisle of the alcohol section to answer any questions you may have and also attempt to upsell you on a more lavish purchase.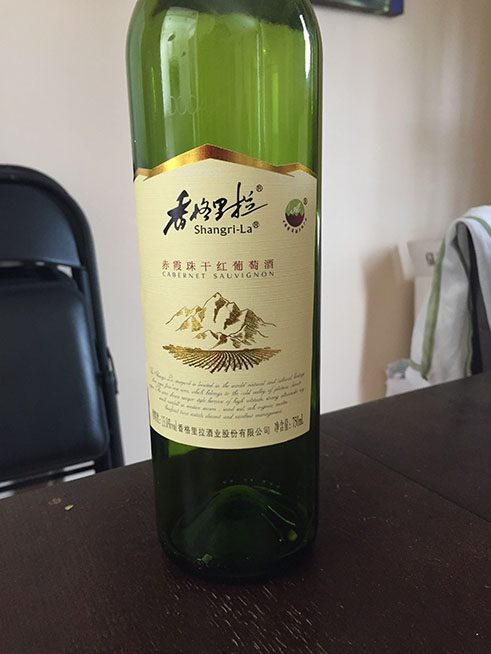 The Yunnan Shangri-La Winery Company makes several other styles of wine, but I really wanted to try their Cabernet Sauvignon (赤霞珠).
Yunnan Shangri-La Winery Company – Cabernet Sauvignon
Cost: Equal to about $15 USD.
I opened this bottle several months later, and didn't initially smell too much of the typical pyrazines expected from a lower end Cabernet Sauvignon. It had a milder taste with few tannins, not as rich or full bodied as some Cabernet Sauvignon I have had from other parts of the world. Milder acids as well. There was a distinct black pepper taste to it that I usually experience more so from Pinot Noir for some reason. I'd compare this to an average priced wine you'd fine at a chain supermarket. Nothing mind blowing, but good enough.
I have a few more bottles from other parts of Yunnan I will report about soon.