In the 1800s, wine in Southern California was a fast growing industry. From Santa Barbara to what is now downtown Los Angeles, much of the croplands were covered in grapes and lots of them were bound for wineries. Imported varietals were just as much of the focus as they are now, but not the main ones we have come to expect in California wine. Back then, what is now called the "Mission grape" (AKA Criolla) ruled the state. It had been brought to New Spain (early name for California) by Franciscan missionaries and was the number one winemaking varietal. In 1849, gold was discovered in Northern California and the California wine industry would never be the same. A massive amount of people all rushed to NorCal to discover their fortunes and also something to drown their disappointments when they didn't strike it rich. Immigrants brought with them vines from their homelands and suddenly a whole new range of varietals were being grown in the state.
A story I once heard said that in the late 1800s Governor John Downey and his associates saw the success that the Northern Californians were having with new varietals, but stubbornly wanted to stick with Mission grapes in the southern part of the state. As far as libations go, he may very well have gone down in history as the first person to not keep up with the fickle hipster trends of Los Angeles and end up failing. Over the next 50 years, this decision to not keep up with the times slowly destroyed the wine industry in Southern California. Maybe he said it on purpose? Much of the land near downtown Los Angeles was becoming a hot commodity for a booming city and why waste it on agriculture? Eventually all of the vineyards were uprooted for businesses and residences.
Today, grapes are no longer grown professionally in Los Angeles city. Though some have tried and are trying now apparently, it doesn't appear as if anything has panned out yet. People with private estates are definitely growing small vineyards, but they aren't for sale. I've personally been able to help make wine from some of these privately grown grapes and it certainly still possible if there was enough acres available. Los Angeles County on the other hand, does have plenty of professional vineyards and wineries. Malibu is an obvious example of this.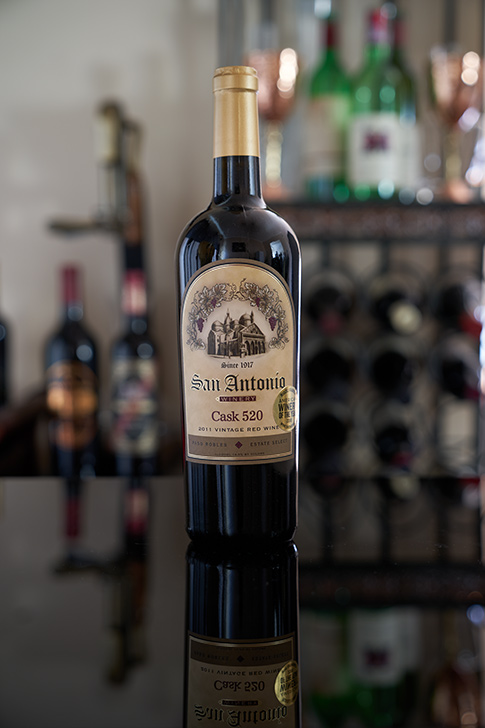 San Antonio Winery was founded in 1917 in downtown Los Angeles, and is the only winery left from a time gone by. They were able to survive the Volstead Act (Prohibition) by making sacramental wines for the churches. Once prohibition was lifted, they were smart enough to see that the writing was on the wall for Los Angeles centric wines and continued purchasing lands piece by piece northward up the state from San Simeon to Napa Valley. They also eventually spread across to Europe and are truly an international winery. It is a bit strange for me to say that they are a Los Angeles winery considering none of their wine is actually made from Los Angeles grapes. They do still have some of their original winery buildings in downtown and have expanded further into larger tasting rooms nearby with gift shops and a cafeteria. It's a good outing to spend time with your rowdy co-workers. Or in my case, an after birthday lunch wine tasting.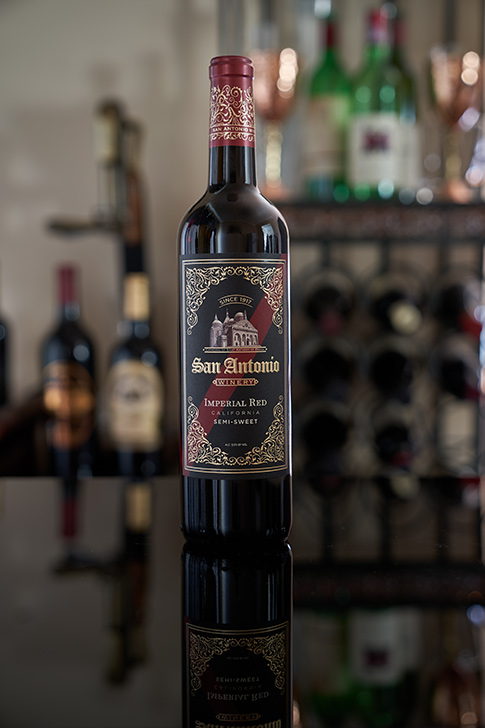 For this tasting, I opened a bottle of their 2011 Cask 520 Bordeaux blend red wine from Paso Robles. It had a bit of an older wine taste and aroma to me. Some cigar and mild olive with some milder dark cherries, plus lots of oak on the nose. There was also a solid amount of tannin and acid. Overall, I enjoyed this wine. As a secondary fun wine, I opened a bottle of their semi-sweet Imperial Red California wine. It's not a serious wine by any means, just a cheap sangria like wine to have on a hot Summer day. It was a bit young tasting and still had a yeasty smell to it. The bottle would probably go fast at your next BBQ.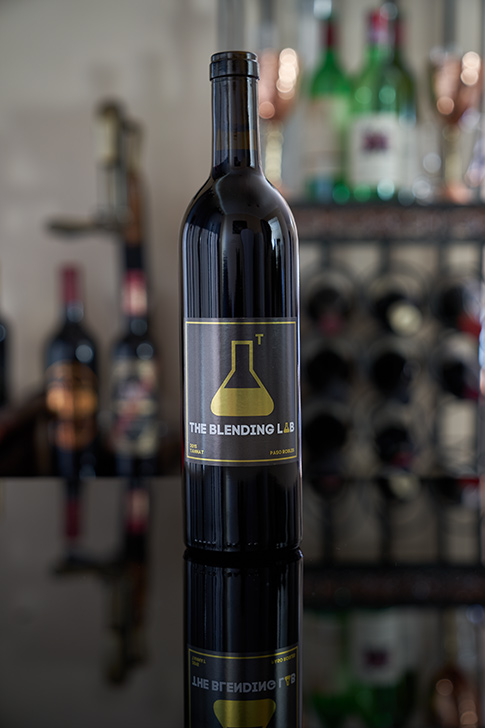 The second company for this tasting doesn't seem to call themselves a winery, but actually a blending company. The Blending Lab is part of a new wave of wine companies that don't always own any vineyards, crush pads, or cellar. They purchase their grapes from a vineyard or in bulk from a broker and then start making their wine at a rented facility that sometimes even has its own head winemaker and assistants to help make the wine the best it can possibly be. This is just my own personal opinion and a general idea about what could possibly differentiate between a blending company and a winery. Not every blending company may require assistance for all of these items, but this is my theory. As for The Blending Lab themselves, I don't know much about their internal operation, so I can't say for certain how much of the previous items reflect their process. What I can say about them though, is that their place located near the Grove in mid-Los Angeles is awesome and they are truly killing it. It's run by a few dedicated people who flat-out love wine and even enjoy teaching others how to blend wine properly. They offer classes weekly where you can learn to blend wine and can even take a bottle or two home from what you created during your class. I get a "Cheers" feeling when I visit them as lots of people are repeat customers and just enjoy hanging out talking about their day while sipping wine. The Blending Lab allows you to bring your own food in and will make the place available to rent for your special occasion.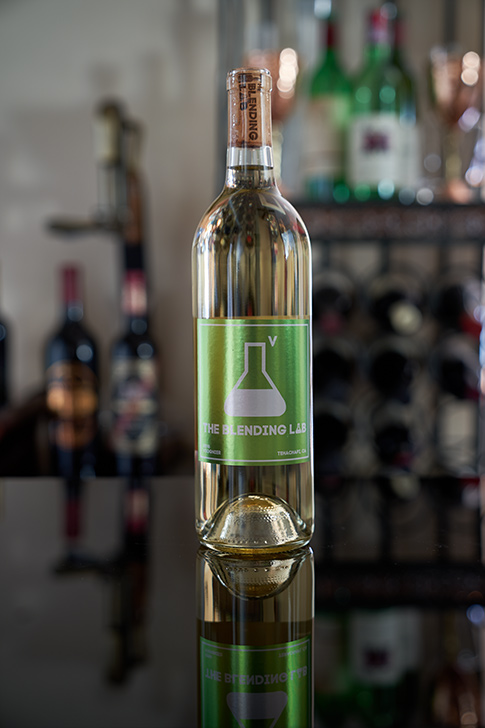 I had never seen Tannat offered as a stand alone bottle until the first time I went into their tasting room. It used to be more common in France a long time ago, but is rarely mentioned anymore. It has however become extremely popular in Uruguay and is even touted as their national wine. The Blending Lab's version (2015 Tannat – Paso Robles) quickly won me over the first time I went for a tasting so I purchased a bottle. I finally opened the bottle for this tasting and found it quite solid. The tannins and acids were both pleasantly mellow, as neither was overwhelming. Its color was a deep dark purplish red with nose of blackberry. Like I was eating a spoonful of dry dark jam. Flavorful but not overpowering. My secondary wine was a 2016 Viognier from Tehachapi, CA. Tehachapi is another one of the areas like Temecula that is starting to become more noticed in the wine world. Tehachapi is technically Los Angeles County, while Temecula though is further out in Riverside County. I had previously enjoyed Viognier from nearby Santa Ynez, but never had a wine from Tehachapi before. This was definitely a must try for me. It was quite fruity and floral on the nose with apples, peaches, and other fruits all gracing my nose. This Viognier was special. I was expecting to like the Tannat more, but ended up preferring the Viognier. Something must be wrong with me! I'm typically more into red wines. I look forward to my next outing at The Blending Lab.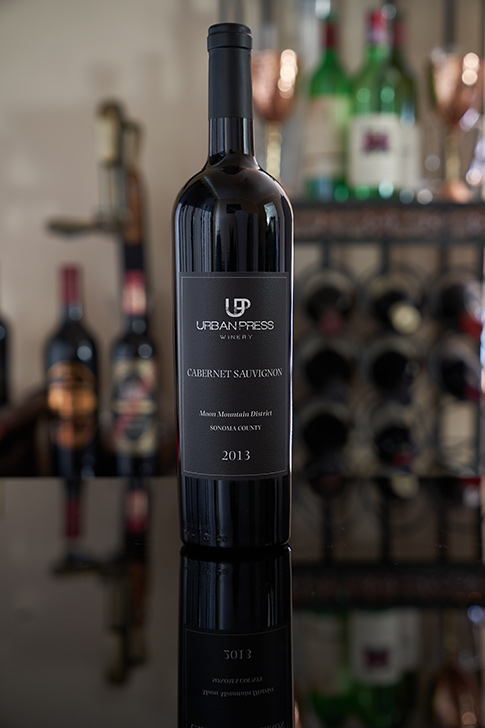 For the final company of this tasting, I ventured outside of Los Angeles to neighboring Burbank to try another place that also considers themselves a blending company. I had heard of Urban Press Winery, but just hadn't yet ventured out to Burbank and see what they offered. Downtown Burbank has gone through lots of changes over the 20 years that I have been in the Los Angeles area. It's going through another change right now with new businesses popping up and malls getting massive middle age facelifts. My only complaint with Urban Press Winery was that their hours of operation weren't consistent across online websites. Their official website said they were open at 12noon, while Yelp listed they weren't open until 5pm. When I arrived for a lunch wine tasting at 12pm, the hours on the door listed 1pm as their opening time. I ended up walking around for an hour until they opened. What was once a newsstand is now the long corridor of the Urban Press Winery. It feels like you're blasted off to a small town in Europe somewhere and even has a nice patio in the back to relax with your wines. Live music and other scheduled events fill the air nightly while you sip their latest wines. They do have a limited food menu too depending on the time of day you come in. From what I was told by my wine pourer, the owner originally preferred Italian varietals so much of their earlier wines reflect this. Their wines have spread out a little more these days and offer a wide range of reds and whites.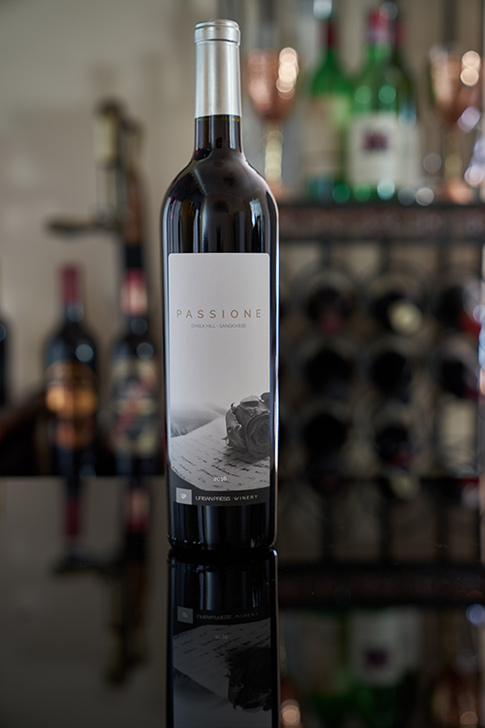 I opened their 2013 Cabernet Sauvignon from Sonoma County and found it a good representative of a Sonoma Cab. It was bold and oaky with lots of plum and cherries with a nice ruby red color. A nice mix of tannins with a little acid. Sonoma doesn't often get enough credit compared to Napa, but this wine could compete against Napa any day. For their second wine, I opened their 2016 Passione Sangiovese also from Sonoma. It was much lighter in coloring and plenty of strawberries on the nose. Typical to Sangiovese, it was highly acidic but very little tannins. This was a good wine as well, but I definitely preferred their Cab.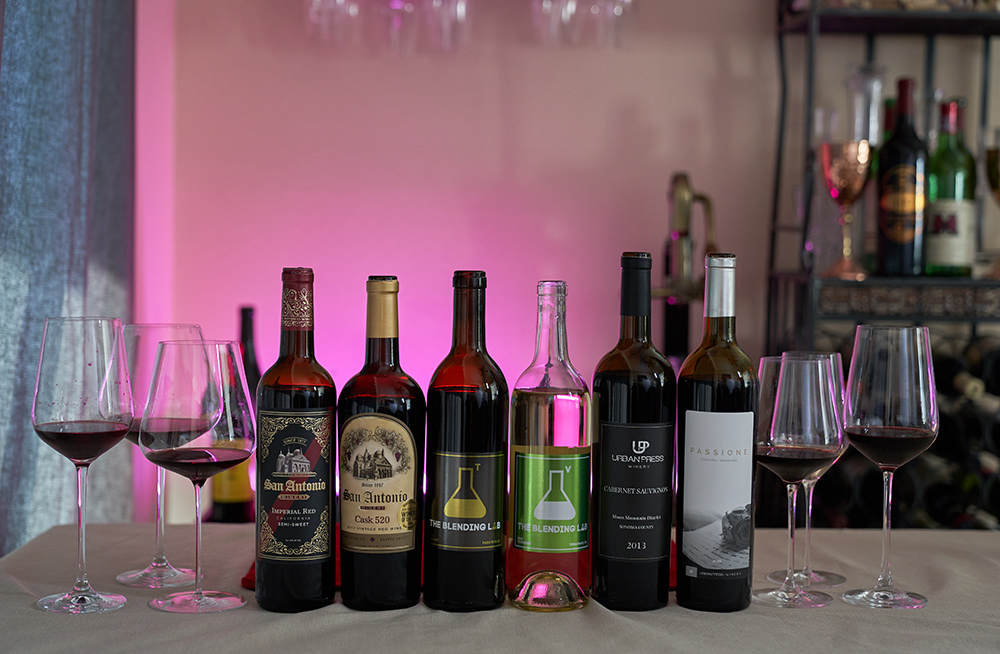 While it sucks that the city of Los Angeles has long since lost its professional vineyards, I am happy to know that the industry in the overall county itself is growing. I guess that's good enough considering the city is running out of real estate and with updated earthquake technology is now building upwards moreso now than ever before. I'll just have to enjoy the blending experts in my home city, and the occasional day trips out to the edges of the county for any chance of scenic vineyards.