Visiting Shandong Province's wine region and Changyu's chateaus in northeast China had been on my list for a while. China often likes to call Shandong their version of Napa Valley in California.  It's along the latitude and shares a similar climate.  I finally was able to mark this one off in late March. While the wineries found in southwestern China aren't seen to have much clout, these in Shandong do.
In 1892, a wealthy Chinese man named Zhang Bishi (张弼士) started Changyu Pioneer Wine (张裕) in the port city of Zhifu (modern day: Yantai). Grape wine was not a popular beverage with the locals back then, so most of it was sold to foreigners or exported out of the country. By the 1930s, like most businesses in China, Changyu was heavily impacted by a declining economy. The company was unable to pay down its loans and was forced to be handed over to the government.
For nearly two decades, Changyu received very little attention. Finally things turned around in the 1950s when the company was awarded government funding to replant much of its vineyards and resume operations. It wasn't until the 1980s though that wine consumption picked up in China and Changyu was finally able to hit its stride.
Changyu now has thousands of acres of vineyards in Yantai and produces dozens of wines just from those vineyards. They also have expanded into other wine regions including the more internationally popular Ningxia province. Shandong may be considered the home of Changyu, but other large scale Chinese wineries (including Great Wall and Dynasty) are also producing wines near Yantai. International brands like Lafite Rothschild are also setting up their own wineries as well as partnering with local companies here.
Yantai, Shandong –  Home of Changyu Pioneer Wine
My flight landed in Qingdao, Shandong (山东), and then I took a bullet train to Yantai about 2 hours away. Yantai feels like a small city-in-transition. It has always been known for its port and depending on who you talk to, also its factories. Hon Hai/ Foxconn, one of the main technology factories involved with Apple's iPhone production, is located on the outskirts of the city. Most of the foreigners I met on this trip were engineers or representatives of foreign companies doing business here. However, I didn't locate any other foreigners visiting Yantai solely for their wines. I was the only crazy foreigner here for that.
Yantai (烟台) has been trying to generate international buzz with serious talk of an "International wine city" and tourist centers for people to come and taste their local wines. Wine still has a long way to go with the Chinese, and is no where near as popular as it is with Westerners. Additionally, there is a belief that the Chinese still need to be educated about wine in general, so many of their tasting rooms and Chateaus are built around the idea of teaching people the basics about wine. This includes the step-by-step process of how it is made, the correct way to hold a glass, and standard way of smelling and tasting.
Chinese tend to prefer foreign brands, especially those from France, much more than their own locally made wines. They typically see local wines as inferior to international wines. This is such a bad sweeping assumption that they refuse to even give their own wines a chance.
This belief was reinforced when I had a conversation with a local man at the train station. He told me that their local wines weren't very good, and were no where near as good as wines made internationally. I asked him exactly what about the local wines does he feel makes them not as good. He couldn't really come up with a reason, he just felt they weren't. This had me curious to know that if a blind taste test was given to a group of 100 average wine drinkers from China, how many of them would pick their own local wine as the best?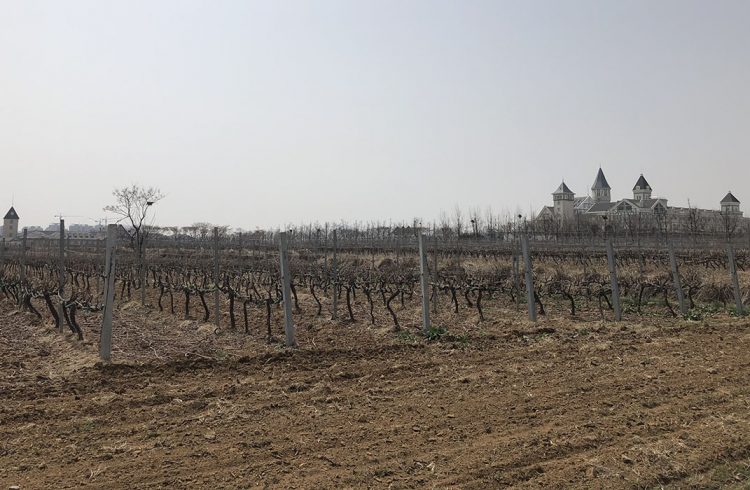 I arrived around noon at Chateau Changyu-Castel (张裕卡斯特酒庄) located on the outskirts of Yantai. You can immediately see the French inspired chateaus scattered throughout the acres of vineyards. There's a small entrance fee to get in, but then you are free to walk around the grounds for as long as you want. I came during the off season as it was still slightly colder, so there wasn't many other visitors around. That's a shame really. There were acres full of vines to wonder around, birds chriping on the ponds, dogs roaming around. It was very peaceful. Many of the rows of vines were labeled (even in attempted English), so you knew what varietal was being grown. I saw nearly every major international varietal as well as a few (like Ribier) that were new to me.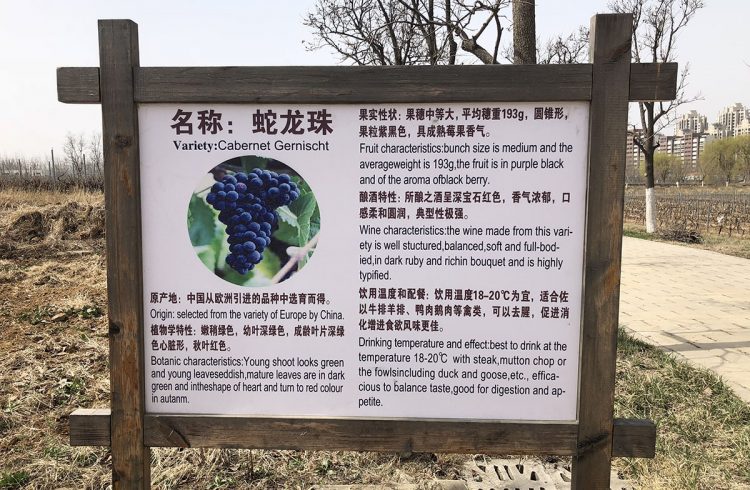 Cabernet Gernischt (蛇龙珠) is a varietal name most people outside of China won't know, even though it is by far the most popular grape used by Changyu and many other wineries in Shandong. It's always been described as this mysterious Cabernet varietal supposedly brought by monks from Europe in the 1800s. In the past few years, tests have concluded that it is actually Carmenère, a varietal once more common in France, but now seldomly grown. It has become extremely popular in Chile though.
After exploring the vineyards, I ventured inside one of the chateaus to their tasting room and was given two Cabernet Gernischt wines to try. The tasting room was located on the chateau's top floor loft, and felt like a nice game room. A stage for live music, various gaming tables, pool tables, foosball, lots of lounge chairs, and more. This room was built for lots of people. There were only 2 other groups of people tasting wines, and both left not too long after I arrived. I now had this massive tasting room all to myself. The young lady behind the counter went back to practicing reciting a speech or something she was memorizing for a class.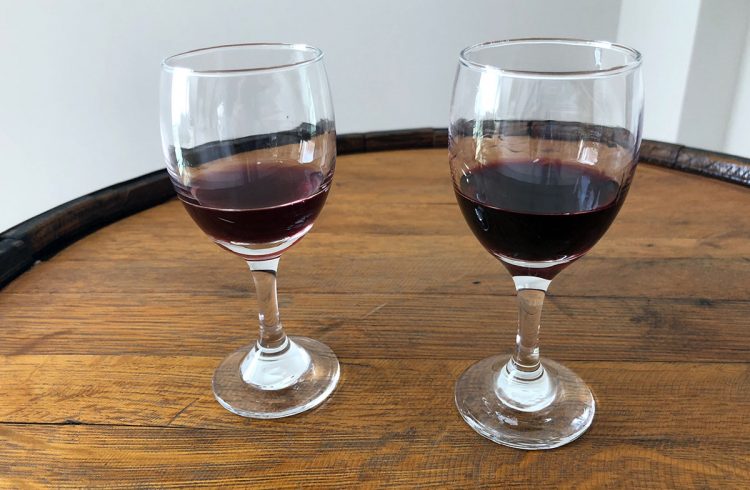 The first glass of Cabernet Gernischt was a bit cloudy and lighter in color. It had a small bit of red fruit on the nose, but not much else. There was practically zero tannin and only the faintest of acid too. It seemed flat. I didn't get to see the bottle for this one, but my guess is that it was probably a blend.
I was able to see which bottle the second glass came from. This wine was much clearer, darker in color, and had stronger red fruit with a slight bit of plums. More acid than the first wine, but again very little tannin in this one either. All in all, the second wine was still a solid wine. I decided to buy a bottle of it as well as two others I did not get to taste. My purchased Cabernet Gernischt were similar in price and the second bottle was a cheap Cabernet Sauvignon. I wanted to try their attempt at a standard Cabernet.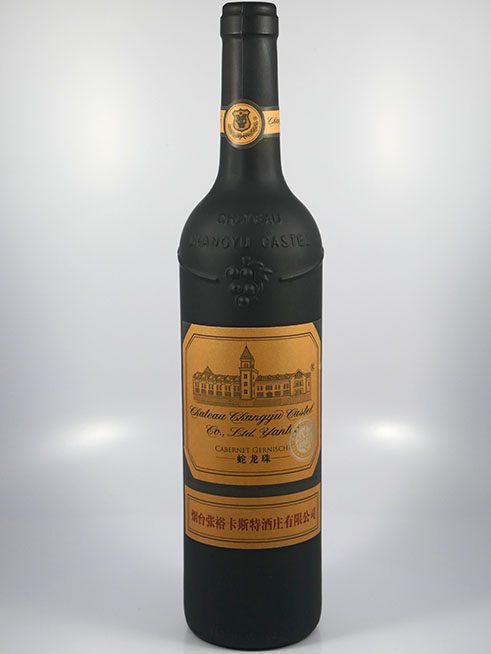 Chateau Changyu-Castel – Cabernet Sauvignon, Cabernet Gernischt, Cabernet Gernischt
Cost: Three wines approximately – $10, $25, $30 respectively
There are a couple of strange trends here in Shandong that I hadn't seen elsewhere. Many of their bottles of wine come within their own ornate wooden gift box. Chinese culture is big into gifting, and wine still has a bit of the "made for the wealthy" reputation here as well. So these wines are more than likely expected to be used as gifts to impress one's friends. I'm sure the overall value of the wine is far less than the price you pay since the cost of the box must be factored into what you paid as well.
The second interesting trend I saw was the shape of the wine bottles. Go to any wine store in the west, and you have some pretty standard bottle sizes based on the varietal you are buying. 99% of all Cabernet Sauvignons will use the same bottle height and shape. The color and glass may shift some, but overall they are all really close. These local Chinese wines like to use taller and/or wider than normal bottles. The taller bottle will not let the door shut on my standard wine fridge, and the wider bottle won't fit into a bottle space.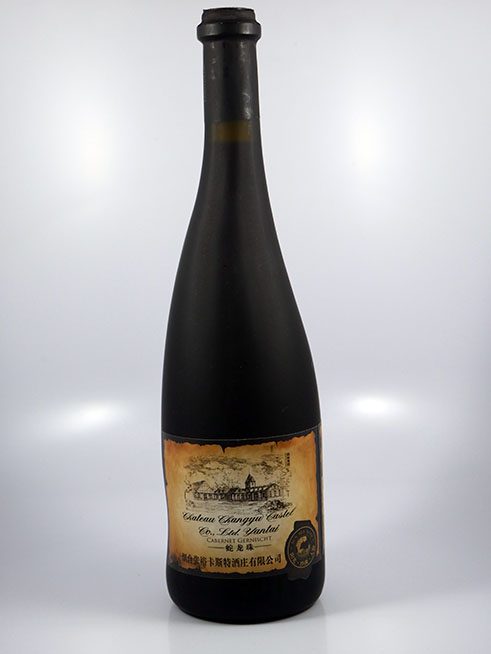 They also like to make bottles look older and possibly handmade with an irregular antique shape. I get the sense that they don't think these wines would sell on their own with needing a gimmick. To be fair, their lower end wines available in supermarkets all do fit the standard sizes. It must be something they feel is necessary for their slightly higher end wines.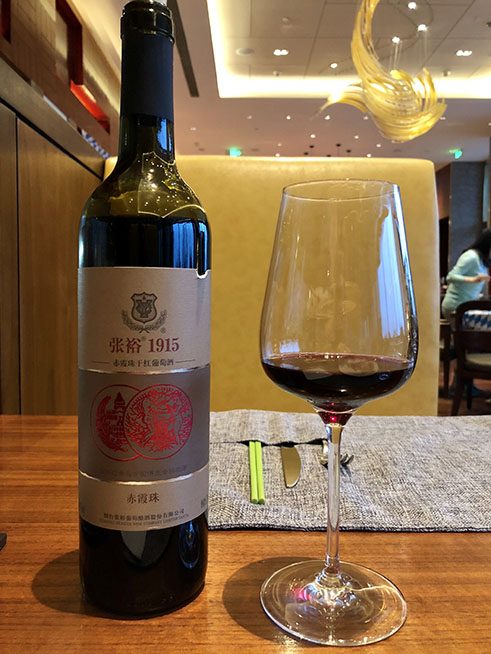 Back at my hotel, I planned to open the $10 Cabernet Sauvignon for the evening. However, I discovered that my hotel restaurant's buffet offered unlimited wine with dinner and was offering a different Cabernet Sauvignon from Changyu that I had yet to try. I'm normally not a big fan of hotel restaurants but this was an opportunity I couldn't pass up. Once seated for dinner, they brought me a full bottle. It was mine for as long as I sat for dinner.
I wasn't expecting this Cabernet to be as good as it was. Maybe it was the unlimited wine aspect, but it was on par with several medium bodied Cabernet Sauvignons I've had from other countries. It had the faintest bit of the typical green vegetable aroma, a little oak, and a bit of darker fruit and minerals. Not a very strong nose overall, just like most Chinese wines I've had. They do seem to favor Old World style. Which does make sense since I do believe most of the help they receive comes from France anyway. I sat for over 3 hours just so I could enjoy as much of this wine as I could. I had befriended the wait staff enough that they just let me take the rest of the bottle to my room!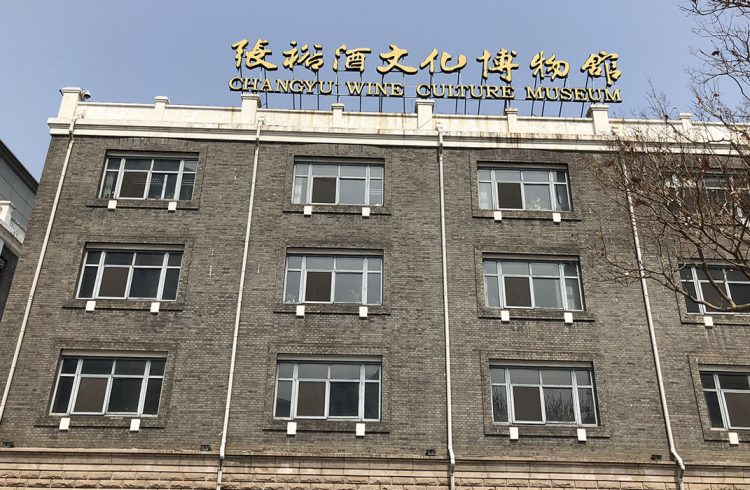 The next day, I visited the Changyu Wine Museum in downtown Yantai. This was where the winery originally started and now functions as a museum. Chateau Changyu-Castel had some historical information, but the museum was good to see it more first hand. At the end of the tour, I was given two more wines to taste. One of them was the exact same Cabernet Gernischt I had tasted at the château. The better of the two I had tasted there.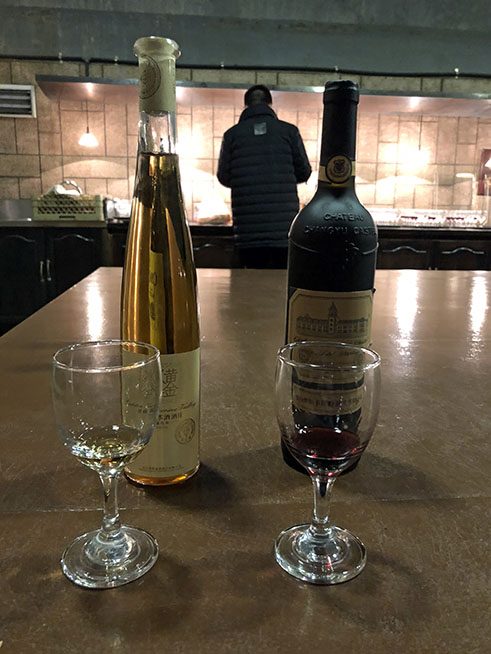 The second wine was their icewine (Golden Icewine Valley Vidal) produced further north and across the sea in Liaoning. Sweet wines aren't something I drink too often, but the sugar in this one was not too overpowering. I smelled peaches and similar fruit on the nose, and had a sense of caramelized apples from the taste.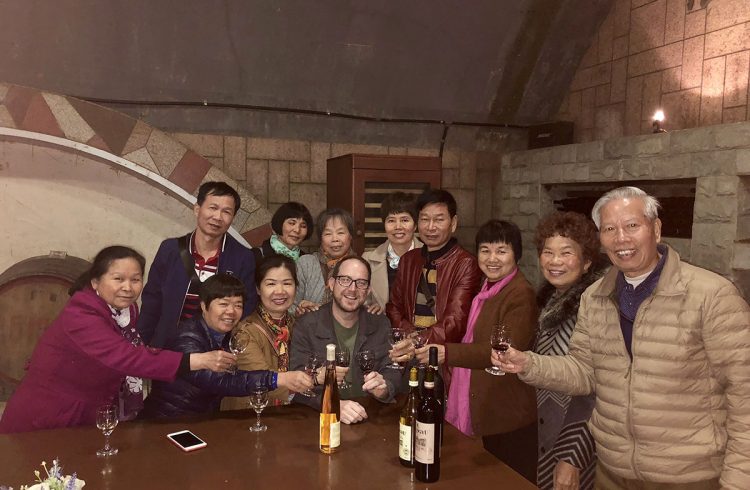 I was alone in the cellar-based tasting room with just the lady pouring the glasses of wine. Minutes later, a tour group of senior Chinese came in and quickly took the opportunity to chat me up. I was able to sit in with their paid tour guide as she instructed them on the proper way to hold a wine glass, how to drink wine (sip it, never down it), and how to check for clarity. The tour group was more distracted with taking selfies with me. They kept leaning over or walking behind me so someone would take their photo next to me. I gave in and told them to just take a group photo with me instead of one at a time. I apologized to the tour guide and then let her finish.
Upon leaving the museum, I stopped by the wine shop and bought a bottle from Changyu's Ningxia location since it may be a while until I can experience more of that region's wines. This bottle also came with a super fancy ornate wooden box. I had to decline it though, as it's simply too hard to fit all of these wooden boxes in my luggage. The workers were puzzled as to why I wouldn't want the box though.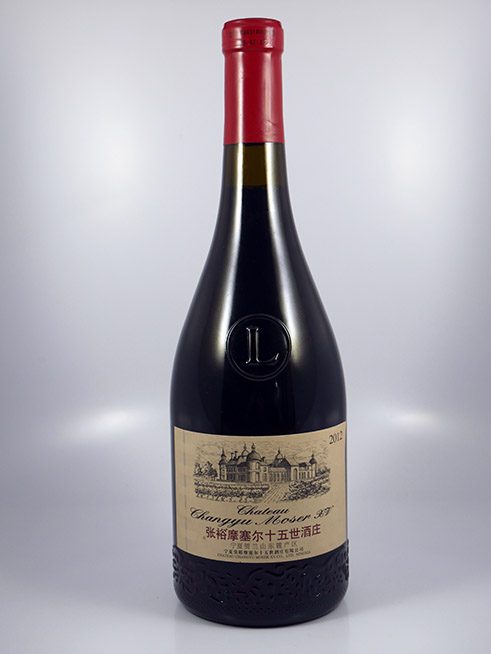 Chateau Changyu Moser (blend of Cabernet Sauvignon & Merlot)
Cost: $60
Qingdao, Shandong
My time in Yantai ended and I took the bullet train back to Qingdao (青岛). I know this is supposed to be about wine, but one can't go to Qingdao without at least sampling some fresh beer straight from touring the Tsingtao Brewery. Then, directly across the street on what is dubbed Beer Street are restaurants all serving fresh beer on tap and seafood. Makes for a great evening. I recommend it for those wanting an off day from wine.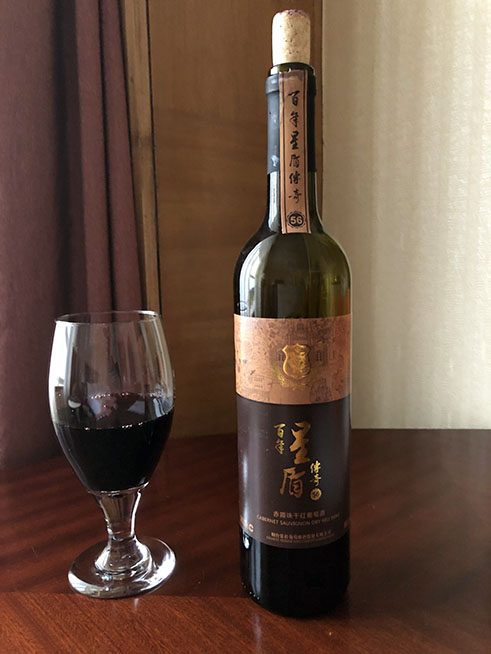 I opened the $10 Changyu Cabernet Sauvignon purchased in Yantai at my hotel in Qingdao. This one had deeper plum flavors than the Cabernet with my dinner a few nights before. Definitely tasted lots of dark fruits and a big amount of acid. The tannins were similar though. The overall taste fits its price, and it would fit right in with any mass produced Cabernets purchased at your local supermarket.
Qingdao is without a doubt known globally for its beer, but they have a few wineries as well. Most of the wine stores here sold wines from Huadong Winery (华东庄园) which has several vineyards and a chateau just outside the city. Not to be outdone by Beer Street, Qingdao also has a Wine Street. It's mostly just wine shops selling Chilean and French wines and a bit of a letdown.
One store at least had some other Chinese wine brands available though. I even spotted a few bottles from Yunnan Red Wine company which I had visited in the past. There was also a wine museum filled with educational displays about winemaking, and then entire display rooms describing each major wine region around the world. You receive one glass of Cabernet Sauvignon from Huadong Winery once you reach the end of the museum. I smelled more oak on this bottle than I did from Changyu's wines. It also had a bit stronger fruit. There were more tannins and definitely higher amounts of acid. I did not buy any wine here because I had planned to visit the Huadong Chateau on another day, and the bottles were branded for the museum.
Sadly, I never made it to Huadong Winery. I wasn't feeling up to travel to winery which was over an hour away from the city, and it was my last day. Taking the easy way out, I bought a bottle from a wine shop across from my hotel. At least I still came home with a bottle.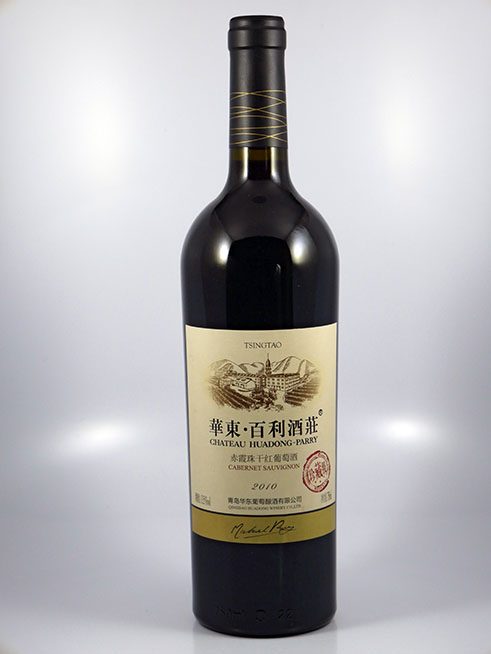 Chateau Huadong-Parry Cabernet Sauvignon
Cost: $45
Future posts will contain additional information as I open each of the bottles purchased on this trip.
Send me Sats!