Lowcountry, that's a term I've become familiar with since studying South Carolina, my next state reviewed for 50 Wines From 50 States. In simple terms, it represents the southern portion of South Carolina's coast including the islands. Most of the Lowcountry sits below sea level and is an important area not only for its unique landscapes but also its natural biodiversity.
South Carolina is most famous for its beautiful beaches with Myrtle Beach and Hilton Head Island representing two of the top destinations. This detail alone, makes the state less of a prospect for a thriving wine industry though this has never stopped people from trying. As far back as the early 1700s, settlers had been trying to produce wines in the new territories. Bounties were offered to those who could produce wine with the hope that they could eventually rival those from France. Several attempts were made to produce vinifera grape wines, but these efforts would all eventually fail. South Carolina's subtropical climate was too hot and humid in the Summer, yet too cold in the Winter for these types to thrive.
Nowadays, like many other US wineries, South Carolina has began focusing more on its native varietals that can easily grow within its climate. Depending on where you look online, there are anywhere from 10-25 wineries located across the state. A quick glance shows that Muscadine is the top native grape used across many of them. This is not much of a surprise since it grows wildly in many of the southern states. For those not familiar with native wines, many of these wineries are also importing more well known varietals from other states in order to produce their own versions. My hope is that while those wines may be be drawing the people in, they are leaving with bottles of local Muscadine wines.
I selected Deep Water Vineyard to represent South Carolina in this tasting. Located in the Lowcountry on Wadmalaw Island, they claim to be the "only domestic winery in Charleston, South Carolina". The vineyard grounds contain hiking trails, a large pond, gardens, and animals which sounds like a great place to get away from it all.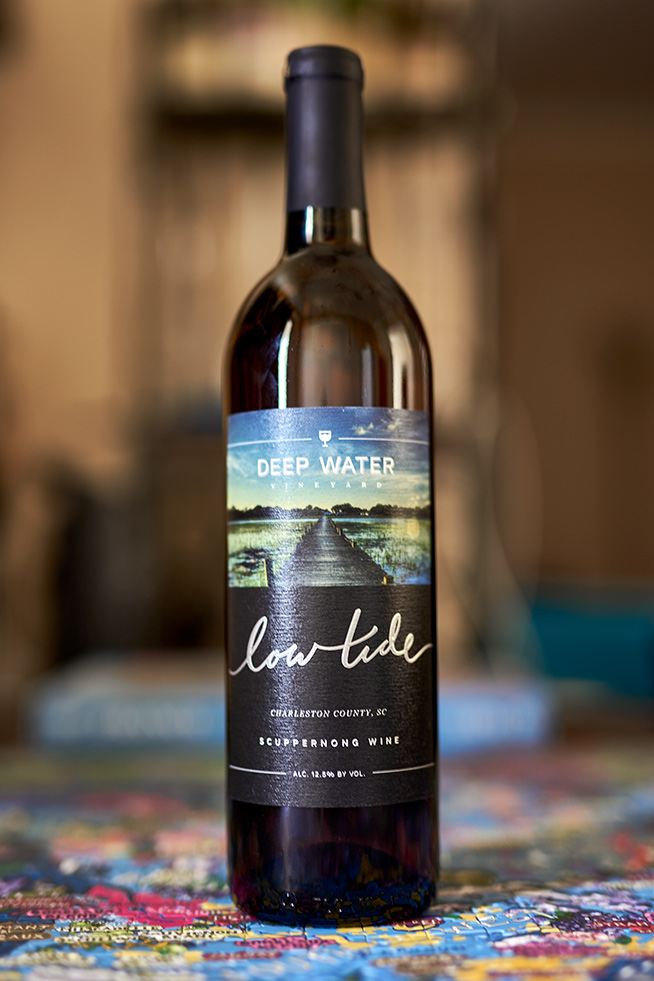 For my first wine, I chose Low Tide, a non vintage white wine made from the Tara Scuppernong grape, a specific type of muscadine known for being a bit drier than its famous parent. I first mentioned Scuppernong in my Florida tasting and again during my North Carolina tasting as it was one of the first native grapes to be successfully cultivated and mass produced for early American wine production. While mentioned twice before, this was actually my first chance to taste it, and wow am I glad I did. I've mentioned before that I'm really not a fan of sweet wines as I typically find it to be overpowering and takes away from the wine themselves.
Low Tide was described as semi-dry, but that can be misleading. It's a very subjective descriptor as some of the muscadines I've tried have claimed the same yet were still way too sweet. Off the bat, this aromatic wine reminded me so much of a semi-dry Riesling with notes of stone fruits and honeysuckle yet more amber in color. It really was a perfectly balanced wine and not at all what I was expecting. Just a hint of sweetness, not too much acid, and light enough overall to finish the bottle in a single sitting.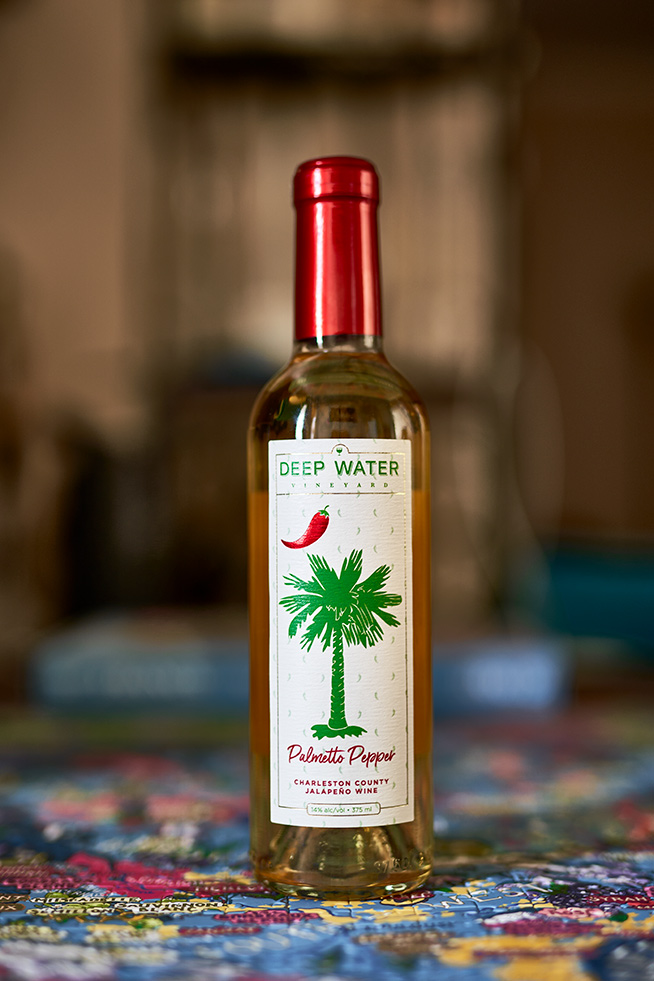 My second wine was an interesting choice. Palmetto Pepper comes in either a full or half bottle and is made from fermenting "1,200 pounds of jalapeño peppers". What an interesting idea! It does have alcohol in it, but they do not say anywhere online what they use for fermentation. I reached out to them online and was told that they use a Vinho Verde concentrate from Portugal. Palmetto Pepper is popular to use in Bloody Marys, but I've never been a fan of them, so I tried drinking it straight. Visually, it looks like any other white wine would look, but upon first sniff you might think that someone snuck a bunch of peppers in your Chardonnay as the aromas are quite strong! Within a matter of seconds of trying this, I could taste and feel the jalapeños, that's for sure.
The Palmetto Pepper is quite the unique concept, but I can't stop thinking about Low Tide. It was such a great wine, that I'll be looking out for more Scuppernong wines to try in the near future.
You can see a list of states I've reviewed on my main 50 Wines From 50 States page.