Arizona is often pictured to be insanely hot with nothing but cactuses and desert as far as the eye can see. The real truth is that there are plenty of microclimates through out the state. Flagstaff, in northern Arizona, is a perfect example of this and would probably surprise most people if you told them it gets snow. Heck if I were blindfolded and dropped there, I might even mistakenly believe I was actually in Colorado, not Arizona, because it is mountainous and full of trees.
With this thought in mind, it's easy to understand how winemaking could actually thrive in an unsuspecting state like Arizona. It's believed that wine was first made there in the early 1700s by a Jesuit missionary, but larger production didn't truly take off until the mid 1800s. The industry was destroyed by Prohibition, and then was slowly revived in the 1970s. Today, there are really 2 core wine regions: one that is located around the southern city of Tuscon and another in the Verde Valley, a thriving microclimate just north of Phoenix in Yavapai County.
The Arizona wine industry actually has a famous supporter, singer Maynard James Keenan, known for being the lead singer of groups like Tool, A Perfect Circle, and Puscifer. Maynard moved to Jerome in the mid 1990s and runs his own local winery Caduceus Cellars. There was even a documentary created about the Northern Arizona wine region called Blood into Wine starring Maynard, among others. I highly recommend checking it out if you are a fan of him or just curious about Arizona wine.
I have previously reviewed one of his wines as part of my article: Celebrities and Wine: What's the Connection?, so I opted to try a different winery for my Arizona tasting. I recommend you read the article or even watch the video to see how Caduceus Cellars wines held up. For this tasting I chose Page Springs Cellars, located in Cornville near the Verde Valley, which has several estate vineyards and offers a destination experience for their guests. Eric Glomski, the founder of Page Springs Cellars, helped Maynard start his winery and also co-stars in the Blood into Wine documentary.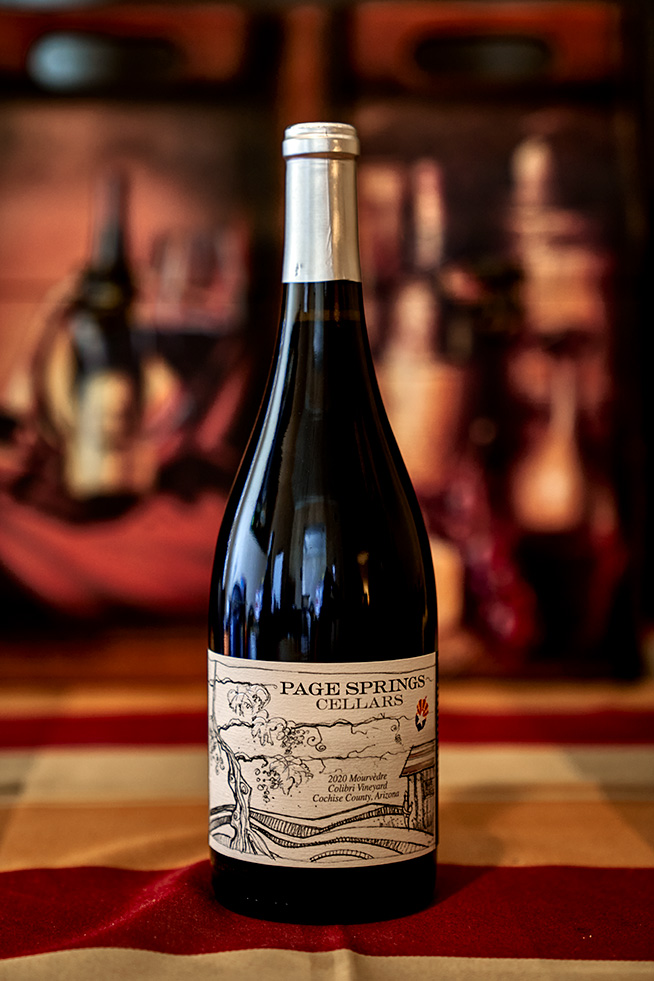 As my first wine, I chose their 2020 Mourvèdre Colibri Vineyard Cochise County. Mourvèdre isn't a red wine I see too often as a solo varietal except in small lots from wineries like Page Springs and some others in my favorite region (Santa Ynez). It was more fragrant and fruitier than the Santa Ynez versions plus maybe also still a bit young since it is from 2020. There were notes of several flourals and minerals with a hint of lighter red fruits. Overall this seemed like a lighter Mourvèdre than the standard, which isn't exactly a bad thing.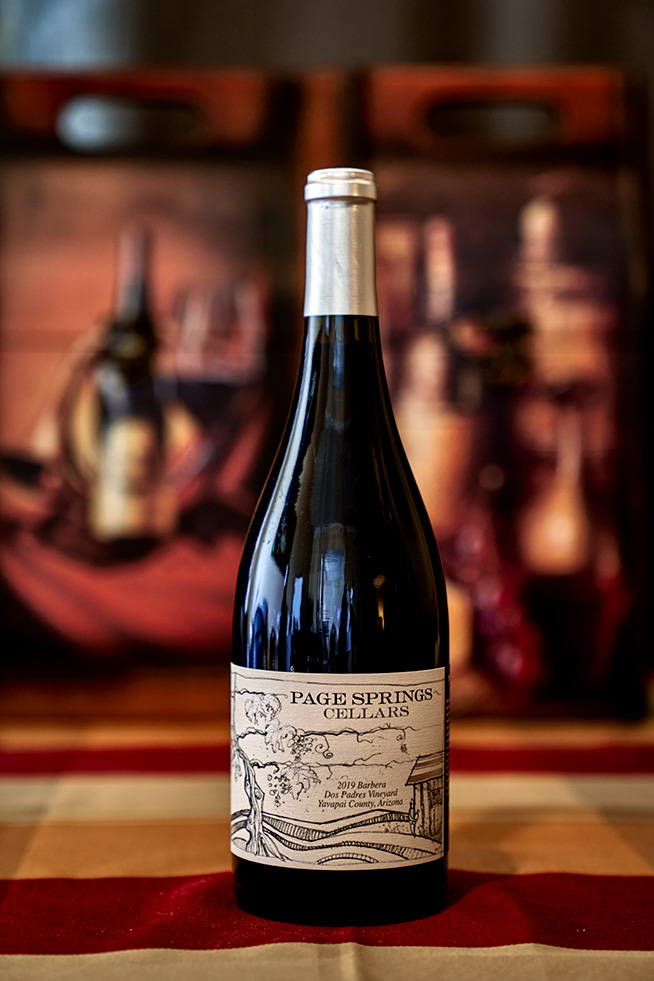 I chose their 2019 Barbera Dos Padres Vineyard Yavapai County as my second wine. While it is more common than Mourvèdre as solo varietal, Barbera is often considered secondary as "the Queen" of Piedmont Italian wines, compared to "the King" Nebbiolo. This Barbera was rich in darker berries, was less fragrant than the Mourvèdre, but had deeper colors and more tannins.
It is really hard to decide which one I liked more as each wine had different features that made them stand out. I was tasting both of these while eating Vietnamese Bò lúc lắc for dinner and found that the Mourvèdre went down smoother with it. Yet, after dinner, I gravitated to the Barbera more. Both are phenomenal wines, so I'm going to call a tie on this one.
Climate change is obviously a big concern for wine production in a notoriously hot state as Arizona, but I hope they are able to figure out a way to continue producing such superb wines as the ones I've tried so far. Until next time, cheers!
You can see a list of states I've reviewed on my main 50 Wines From 50 States page.