Many celebrities live lifestyles that can only be dreamed of by most people and are worshiped by fans that become starstruck upon meeting them. Yet the truth is that celebrities are truly "just like the rest of us" wine lovers and dream of making their own wine.
Maybe it's due to their star power, connections to a wide range of people, or lots of disposable income, but a vast majority of celebrities have or have had a wine produced. In fact it's almost easier to ask what celebrity doesn't have their own wine than to ask which ones do.
There are many different ways a celebrity can be involved with wine, so let's look at the different routes celebrities have used to produce their wines.
Paid Spokesperson
In some cases, celebrities are merely the "face" of the wine. Put a paid spokesperson's face on the bottle and suddenly its sellability will increase. I purchased a bottle of Cali Rosé with Snoop Dogg on the label by 19 Crimes from my local supermarket. This is an example of the paid spokesperson route. Now he may have been involved a little, but I doubt it was very much. The California Rosé itself was young and fruity on the nose with blasts of sugary sweet strawberries on the tongue. 19 Crimes is a huge winery owned by mega wine conglomerate Treasury Wine Estates, one of the largest wine companies in the world. Fun fact, a majority of all wines available at your average supermarket are actually all owned by the same 5 or so companies.
Bulk wine or Bonded facilities
Truth is that in these modern times it has never been easier to say you have your own wine. With emergence of the bulk wine industry and bonded facilities you too could produce a wine fairly quickly. Purchase a huge lot of already bottled wine, place your label on it, and profit.
Partner with an established winery
In other cases, celebrities are contacting wineries that they like and simply working with them to make a wine to their desires. With the advancement of telecommunications, it has never been easier to communicate with available wineries worldwide so I can see why this method has been fairly popular.
Purchase an existing winery
Another way celebrities are getting involved with wine is by purchasing an already existing winery. In most cases, other than now being able to say they own a winery, the celebrity has very little to do with its day to day operation. There are times that images of a celebrity covered in dirt and working on their own vineyards will be posted online or in a magazine. I'm sure in some cases they truly have an interest in learning the work that goes into making wine, but I'm pretty sure some of them are staged for the media.
I included a bottle of Chateau Miraval because it is currently still owned by Angelina Jolie and Brad Pitt though they are going through a nasty divorce. At the time I wrote this, Angelina is petitioning a judge to unlock their assets so she can sell her portion of the winery ownership. As for the wine itself, this Cotes de Provence Rosé is a dry style with notes of oranges and red berries. It's a well made Rosé if you prefer a dryer taste.
Additionally for this category, I included a red wine from Moraga currently owned by media mogul Rupert Murdoch. The location of this winery is a bit fascinating since it is located within the city limits of Los Angeles (Bel Air). While many newer LA wineries claim to make wines locally, few are actually using grapes grown within the city limits. The estate was originally built by "Wizard of Oz" director Victor Fleming but grapes weren't planted until a couple of decades later. Its microclimate is to thank for its ability to produce their Bordeaux style wines. If you have ever visited The Getty Center, you can see Moraga's rolling hills of vines across the 405 freeway from the museum's grounds. Rupert has only owned the estate and winery since 2013 but claims to just want to preserve it as is. I opened a bottle of their 2015 Red Wine for this tasting. It's a bold Bordeaux style with a solid amount of tannins and notes of dark fruits, black licorice, and minerals. Overall, this wine could easily compete with upper tier Napa Cabernet Sauvignons.
Raise money to start their own winery from scratch
Then there are examples like Yao Family Wines owned by basketball player Yao Ming in Napa Valley, where the celebrity themselves starts up the winery, hires a staff, and creates his own wine. I get the feeling that he is decently involved in the process, more so than just someone who buys an already established winery and enjoys the libations. I was able to visit his winery in Napa a couple of years ago and was even able to try on his Hall of Fame ring.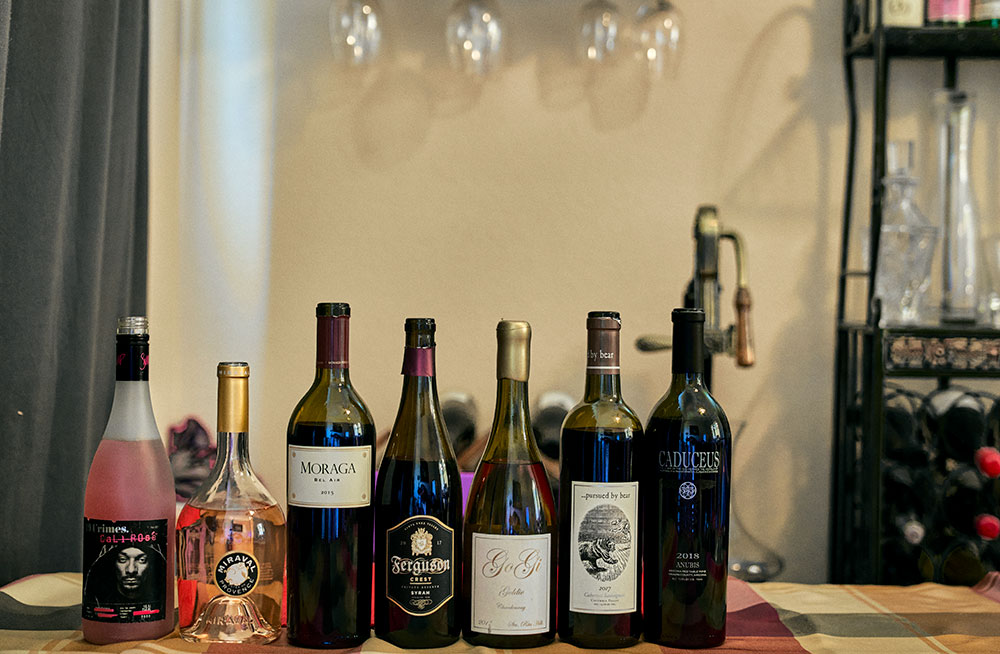 Start a winery, hire an expert winemaker, and let your family be the boss
Sometimes, the celebrity themselves aren't the one interested in making wine, but they do have family members who are interested. This would be the case with Ferguson Crest (located in the Santa Ynez Valley) another winery I'm including in this tasting. Ferguson Crest is owned by singer Fergie and her father Pat Ferguson (who has a long history of loving to garden and grow fruits). Their head winemaker is none other than Joey Tensley whose own label Tensley Wines is my all time favorite from the Santa Ynez Valley. Seeing Joey's involvement immediately got me excited to try their wines. So here we have a situation where the celebrity (Fergie) is the owner, yet her father is more of the green thumb involved, and they have an expert to help them produce quality wines. Since I love that region's Syrah so much, I chose their 2017 Syrah. Ultimately, it lacked the boldness I have to come to prefer from that region and resembled a lighter style with less tannins that had notes of plum and faint dark berries. My guess is that they went with a lighter Old World style to make it more drinkable by a wider audience.
Start a winery, hire an expert winemaker, and become their apprentice
Certain celebrities love the thought of getting down and dirty in their vineyards and making their own wine, yet simply don't know where to begin. While they have the money to do it, they realize they need help to fully achieve their dreams so they hire someone else to be their winemaker and mentor. This is the case with Gogi Wines, owned by Kurt Russell and located in the Santa Rita Hills near Santa Barbara. He says that he has been blessed with the chance to try wines from all over the world due to his films, but it was when he was filming Quentin Tarentino's Death Proof there in the Santa Rita Hills that he finally decided to venture into the business. Through a friend of his, he was able to connect with people who would go on to be his mentor and head winemakers. Most of his wines are named after family members or at least their nicknames. In fact, Gogi was his nickname as a child and his own grandkids now call him that. I chose his wine Goldie (named after his partner Goldie Hawn) a 2017 Chardonnay. I found it to be medium bodied with notes of mango and faint pineapple with hints of buttery oak. It's a solid Chardonnay.
Pursued by Bear, a winery by actor Kyle MacLachlan, is another example of celebrity-turned-wine-apprentice and is located in the Columbia Valley of Washington. Kyle, who is originally from Yakima, Washington, says that it was during his return trips to visit family that he started seeing the budding local wine scene. Eventually the desire to start his own winery took hold and the rest is history. As a busy actor, he also has a head winemaker that handles the day to day operations. But from the details I have read, it is clear that Kyle is also thoroughly involved in the process. I chose his 2017 Cabernet Sauvignon and on first tasting, I found the tannins to be super bold and in a way too overwhelming for everything else. I'm thinking this wine needed to be aged a little longer and or given more time to breathe before my tasting. I let it breathe for a couple of hours and then found it to be much more enjoyable afterwards. There was a nice oaky chocolate-ness to it that made for a nice finish. I've never had an Eastern Washington wine of this caliber before.
Go to Viticulture and Enology classes, become WSET certified, and then start their own winery
We've seen examples of celebrities who want to be involved in their wines, but still very much need someone else to keep things going in the right direction. Then there are ones who themselves are the masters. An example of this that was a surprise to me as well as most of the world when she first went public was singer Pink. She kept her interest in wine a pretty big secret for years, studied hard, became certified, went through viticulture classes, and eventually launched her winery Two Wolves Wine. Her wine is extremely hard to get and requires being on a waiting list much the way some of the "cult wines" require. Sadly, I'm not in the know enough to have purchased a bottle before this review.
Descend from a family of winemakers, become an expert winemaker, advocate for the local wine scene, and start their own winery
Another example of this is singer Maynard James Keenan of bands like Tool, A Perfect Circle, and Puscifer. His is arguably the most interesting of this group as he makes his wines in his home state of Arizona. A major supporter of the wine movement in Arizona, he's deep in the roots of his vines, descended from Italian winemakers, and is the head winemaker for his winery Caduceus Cellars located in Jerome, Arizona. He takes his wine so serious that he actually schedules his music and touring around his winery needs. So don't expect a Tool concert anywhere during harvest season. For this tasting I chose his 2018 Anubis, a blend of Cabernet Sauvignon, Cabernet Franc, and Aglianico. This was probably my overall favorite wine. I believe they made this in more of an Old World style as nothing about this wine was overpowering. The tannins were in the low medium range and the acids were mild yet it had a very complex mix of dried dark fruits and tobacco.
Each of these wines had different pieces that I enjoyed about them. Some of them were great as soon as they were opened, while others improved after some time had passed. All in all, not one of them was a bad wine. It all depends on your budget and preferred style of wines.
Send me Sats!