Illinois is my home state so I was really looking forward to selecting a new winery and sampling wines I had never tried before. The 21st state to join the US, it is recorded that wine has been made in Illinois for over 200 years. Concord was first planted in Nauvoo along the Mississippi River around 1851 and thus began professional winemaking in the state of Illinois. Then in the early 1980s, vineyards were first planted by Alto Vineyards in the Shawnee Hills of southern Illinois, giving birth to Illinois' first future AVA.
Growing up in southern Illinois in the 80s, I didn't notice much about the local wine industry during that time. This is partly because I was just a young kid and wine wasn't what I was interested in back then. I do remember seeing the name of pioneer winery Alto Vineyards here and there, but very little else. Even by the time I graduated high school and then eventually moved away in 1999, I still saw very little details of a growing wine region that was happening primarily under the radar. It was shortly after I moved away that my interest in wine took shape and I do remember asking about the local wine scene when I'd come back to visit. The overall interest in their local wines was still very small. In my opinion, somewhere in the mid 2000s is when the overall interest in winetasting around southern Illinois finally took hold and along with this the number of wineries quickly increased.
Nowadays, I try to venture out to Shawnee Hills and explore different wineries when I go back. My last visit was the first time I had been back since I began 50 Wines From 50 States, so I planned to grab a couple bottles somewhere to cover my Illinois tasting. I was able to visit a couple of wineries and was successful in bringing some wines home. One of the key self-imposed rule I have for these tastings is that the wines must come from grapes (or other fruit) grown in that exact state. As far as I am aware, I have yet to break this rule. Sadly, it wasn't until I returned back here to Los Angeles and did further research on my purchased bottles did I learn that the person pouring wines for me at the winery misspoke. While they told me both wines were 100% Illinois grapes, one of them actually contained 60% grapes grown in Michigan. I was a bit furious at first, but then just shrugged it off. I know my blog isn't world famous and ultimately this is mainly just a record for myself, but I've decided that I won't be promoting this particular winery at all. I think it's key that employees fully know their wines and give accurate details on them to customers.
This meant I now needed to find replacement wines from Illinois and will need to ship them to California. Sadly, it was quite difficult to find any winery that would be able to ship directly to me without using third party services like Vinoshipper that require a minimum of 12 bottles to be purchased from a winery, pay freight to their warehouse, and then shipping fees to my home. I had shipped wines from Illinois several years back, but I'm guessing the laws have become stricter since then. I searched up and down the state until I found a couple wineries that would finally ship to me direct.
I ultimately chose August Hill Winery located in Peru, Illinois. They specialize in sparkling wines, but I am focusing only table wines for now. Their red wines did not say online where the grapes were from so I emailed the winery directly and was quickly told that the majority come from southern Illinois vineyards. I found this a bit funny that I chose a winery from the northern portion of the state, yet still would end up drinking wines from the southern portion. A side note though since they are located pretty high up in near the top of the state, "southern Illinois" to them would describe a major portion of the state below. What I typically describe as southern Illinois would be different than say someone from Chicago might call it.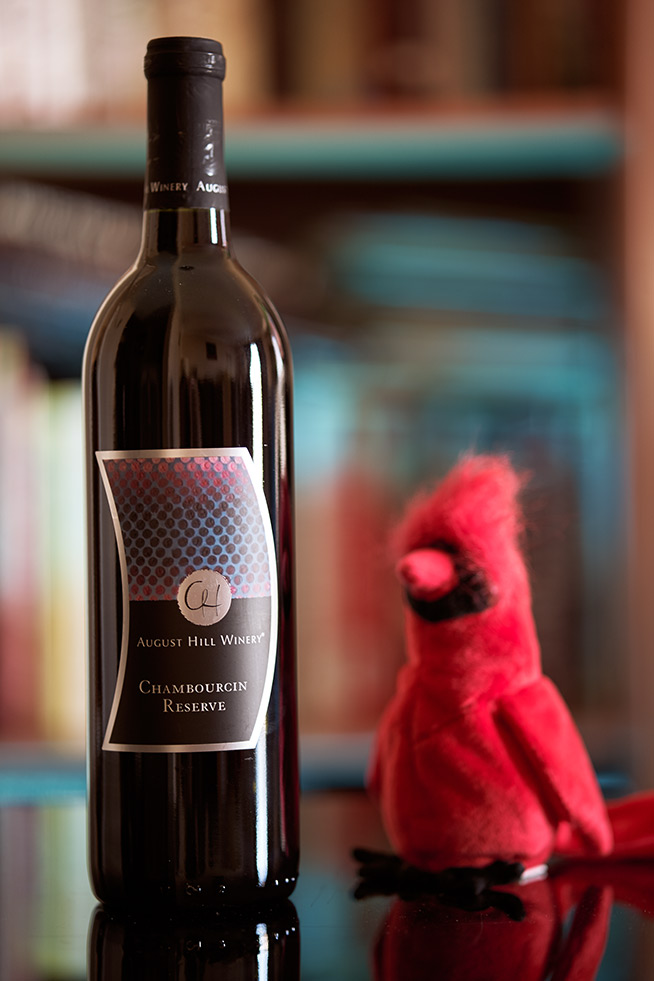 My first wine was their 2016 Illinois Chambourcin Reserve. It wasn't very aromatic at first, but I found that it opened up after a couple of hours. There was a bit of raspberry and licorice on the nose, but again nothing was really standing out. Its tannins were mild, but the acids were about medium-high. This was a good bottle, but not really memorable. No where on the label nor their website did it say exactly where in Illinois the Chambourcin grapes came from for this bottle, so I will have to take their word for it. Chambourcin does heavily grow in southern Illinois so it makes sense.

My second wine was their 2017 Illinois Norton and I gravitated to this wine a bit more than the Chambourcin Reserve. This Norton was instantly much more aromatic with several darker fruits and vanilla, had a darker hue in color, and contained lots of tannins. The back of this bottle stated that the grapes came from a vineyard near Peoria, which is in central Illinois. This was good for me to learn as this was the first time I had tried wines from that part of the state.
I made beef stew in my slow cooker because I was feeling nostalgic for my home state and their cooler autumn temperatures than I get here in Los Angeles. I paired both of these wines with my stew and definitely preferred the Norton more with it. That's really no surprise to me as it was the bolder of the two, which I do typically prefer.
One thing is for sure, I have added this winery to my list for future buys since I need to try their sparkling wines at some point.
You can see a list of states I've reviewed on my main 50 Wines From 50 States page.