It has taken me longer to get started then I had originally planned, but I have finally begun my exciting plan of trying wines from all 50 United States. Alcohol laws vary from state to state so much that it can get very frustrating and somewhat confusing. Several states that I didn't think would be a problem are turning out to be that way. Obviously a key important point to these tastings is whether I am able to get wine shipped to me here in California from a winery I've located. Lots of them do not ship out of state. Others use Vinoshipper which does ship to California, but due to regulations requires a pretty lofty 12 bottle minimum purchase with freight to their California warehouse and then additional shipping to me. I may find wines that I want to try, but if I can't get them sent to here in California, I have to look elsewhere until I find one that will do so.
I currently have wine from over 20 states and deciding which one to choose first was a hard choice. It ultimately came down to the intrigue I had for the secondary wine from the state I ultimately selected.
New Mexico has always been one of my favorite states to take a road trip through. I've had some good times exploring Santa Fe, Albuquerque, and even Roswell! It's a colorful state with so much to offer and I have dreams of spending Winter holidays in a cabin near Taos. As a big history geek, I also love it's rich Native American history as well.
The 47th state of US probably doesn't come to mind when you think of wine made in the US. Truth is though that wine has been made in New Mexico since the 1600s. As with most southwestern states, it's wine industry started primarily with Franciscan monks planting what is known as the "mission grape" and was mainly used for Holy Communion. The 1880 census indicated that New Mexico had twice the grapevine area of New York and was fifth in the nation for wine production. Rio Grande floods, prohibition, and more would eventually slow down the New Mexican wine industry to nearly a standstill.
It wasn't until the mid 1970's that the industry began to rise from it's ashes. In 1981, Hervé Lescombes moved from France to "The Land of Enchantment" and eventually opened the St. Clair Winery in 1984 to the public. Today several of the top international grapes are grown around the great state of New Mexico including Cabernet Sauvignon, Zinfandel, Sangiovese, Merlot, Syrah, Tempranillo, and Cabernet Franc.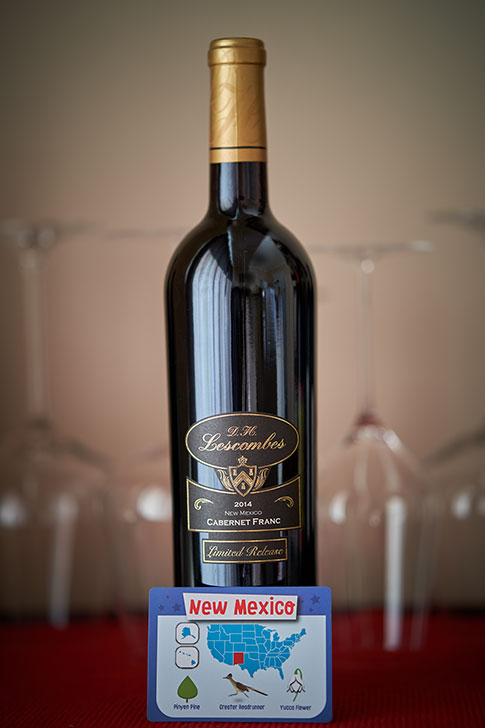 I chose two wines from St. Clair Winery for my New Mexico tasting. Cabernet Franc is known to be a tough grape and the parent of Cabernet Sauvignon. My primary wine was a 2014 Cabernet Franc by D.H. Lescombes Limited Release. Cab Franc does have a bit of a reputation for being "greener" tasting than it's child with more bell pepper, but I didn't get too much of that from this bottle. It had a nice darker red hue to it's color and there was a sizable amount of oak and what could possibly be fig on the nose. It's flavors reminded me of darker jams like raspberry or currant and had lights tannins with a medium amount of acid on the tongue. This was a good wine. Nothing overwhelming or stood out too much about it, but it easy to drink.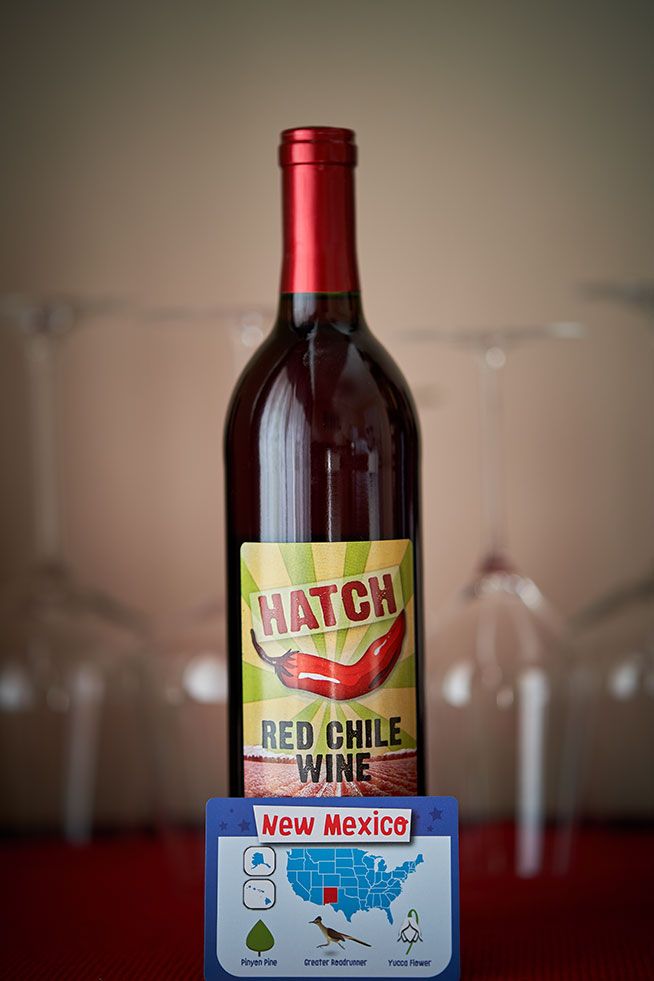 My secondary bottle, Hatch Red Chile Wine, was something I chose as a unique find from New Mexico. Hatch, New Mexico and it's Hatch Valley are globally known for growing top-notch chile peppers. So someone had the great idea of infusing chile peppers into wine. It's an interesting concept to me, yet also had me wondering. How would the finish be from a wine with this combo?
Nowhere on the label nor their website do they say what grape varietal is blended with the chiles. It had such a thin coloring that you could easily see through the wine itself. It's nose was very fruity to me like it could be a heavy blend of Zinfandel or maybe some Merlot. Not entirely sure. The bottle does also mention "natural flavors added" though, so the smell could be coming from grape juice added or possibly other additives. The chiles were noticeable a split second after the wine hit your tongue. Like a quick blast of sweetness, and then a scatter-bombing of pepper spices across my tongue. A very interesting sensation to say the least. My wife preferred this wine over the Cab Franc, however I felt that the peppers overwhelmed everything else about this wine but this is obviously the point of a "chile wine" anyway, right? The bottle says to drink it chilled, but I enjoyed it more when it was returning closer to room temperature. Everything else except the peppers was too muted for me when it was fresh out of the fridge. It was more floral and had a wider range of flavors as it became warmer. All in all, I still enjoyed the experience of trying a chile wine!
I'm glad to have had the chance to try wines from New Mexico. My first experience was definitely a positive one, and I can't wait to try more from them in the near future.
All 50 Wines from 50 States can be found here.
Send me Sats!